Christmas just around the corner!
Whitby is buzzing with seasonal events to get us into the jingle bell mood!
While there's lots happening in our lovely home town, things also reach a festive fever pitch here at the Riviera Guesthouse.
Check out our events listings here!
And there's lots of free things to do too if you're counting the pennies this Winter.
Christmas Events in Whitby 2023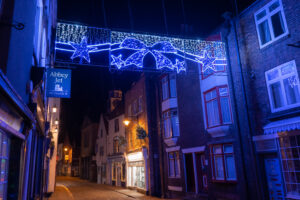 We are truly spoilt for choice here on the Yorkshire Coast for Christmas events!
First of all, and you can read more here, let's consider the Santa Express Specials on the North Yorkshire Moors Railway.
Once the Light Spectacular Express has run its course, it's all aboard for one of the best Christmas railway experiences around!
Be sure to book your tickets here!
It's Behind You … Panto Season!
Christmas and New Year signal the start of the pantomime season.
Here at the Riviera, we always look forward to this annual treat.
Whitby is blessed with several shows in November, December and January.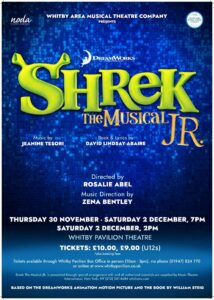 The season kicks off with Shrek The Musical JR, presented by the Whitby Area Musical Theatre Co from 30th November to 2nd December.
Then Cinderella, The Christmas Pantomime treads the boards on 8th and 9th December.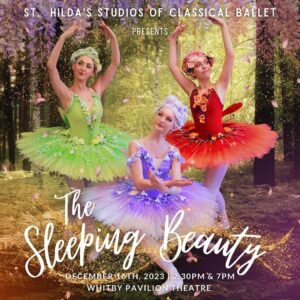 The Sleeping Beauty can be watched on 16th December, presented by St Hilda's Studios.
And if you miss all of these, enjoy Hansel and Gretel, thanks to Whitby's Apollo Players, on 15th, 16th , 17th, 18th, 19th & 20th January.
These all take place at the Whitby Pavilion, just a few minutes walks from the Riviera, and you can book tickets here.
Retail Therapy
If you're not one for audience participation, then how about some retail therapy?
Whitby is festooned with independent shops and high street names and of course all this is enhanced by the Christmas Lights.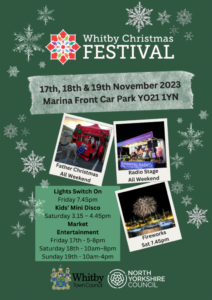 Whitby's much loved Christmas Festival takes place on  17th November to 19th November inclusive.
This takes place in the front Marina Carpark in Langbourne Road.
Along with lots of different stalls, there will be a wide selection of foods from around the world.
Whitby's Town Mayor will officially open the event and will help switch on the Christmas lights at 7.45pm on 17th November.
There'll be a Mini Disco for the children on Saturday between 3.15pm and 4.45pm.
Then there will be a sprinkling of entertainment between 5pm and 8pm on the Friday, 10am to 8pm on Saturday and 10am to 4pm on Sunday.
Father Christmas will be there all weekend (after all it is before his busy time!), along with local radio.
Don't forget the spectacular fireworks display on Saturday at 7.45pm.
Whitby Traditions
There are a number of Whitby traditions which we will add to this blog as time goes on,.
This includes the Krampus Run (2nd and 3rd December) and the Boxing Day Dip on 26th December 2023.
Our Family Traditions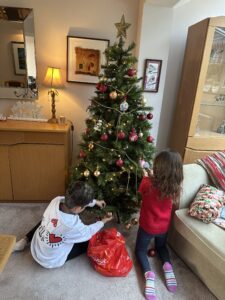 So as our children get older, our festival traditions are still important to us, with some little tweaks here and there.
We love having quality time together.
All of us look forward to digging out the Christmas Tree and hanging the baubles on its branches.
We start to think about the festive treats we all enjoy: tasty nibbles, dinner table crackers, and pooch treats for Evie, our four-legged friend!
Once the festive TV guides are published, we plan which of our favourite films we want to watch.
We are sure some of them will have Yorkshire connections! 
Of course, we're all getting our letters to Santa ready to send to the North Pole.
So while we're all a year older since last Christmas, in some ways we don't grow up at all!
All of us feel that excitement on Christmas Eve as we wait for Santa to visit.
Of course, we put out a drink and some nibbles for him and his reindeer … and they're always consumed when we get up the next day …
The Shortest Day
We are so lucky as we live on the Yorkshire Coast as we always get a sense of the seasons,
This coast is wonderful if you like to see difference in sun rises and sunsets throughout the year.
The shortest day is a turning point for us each December.
It marks six months since the longest day of the year, which is usually when we're busy with guests.
Marking the shortest day also means Spring is on its way so we enjoy the prospect warmer weather and sunshine.
Time to Think
Wintertime also gives us a chance to think, recollect and reflect.
We've certainly had a busy 12 months since last Christmas.
One of the best ways to keep yourself up to date with the Riviera routine is to follow us on our socials.
Make sure you read our informative blog.
This year was definitely one full of variety and history-making moments.
King Charles III was crowned in a spectacular ceremony in May.
Discover our very own pedestrian's guide to Whitby, following a route around the town's landmarks.
Once you've done the walk, the only way to refuel is with some tasty fish and chips: many of you enjoyed reading our ultimate guide to this culinary classic.
As we love exploring the Coast, we shared our shipwrecks blog earlier this year, and yes you can walk out to see some of them.
Our 'Women of Whitby' blog celebrated International Women's Day with the help of Emma Stothard's incredible sculptures.
However, regular readers of our blog will recall the devastating news we had back in February, when Nala, our beloved pooch, made her last journey over the rainbow bridge.
And while we didn't anticipate it, we welcomed Evie in the spring this year … a real bundle of joy!
This year has been a tricky year for finances and in light of this, see our our very own lists of free things to do in Whitby.
Looking Ahead
We are of course looking forward to 2024.
Already there are some key dates in the diary including the Steampunk Weekend in February, Whitby Regatta in August and lots of other events too.
Remember Easter is very early next, with Good Friday being 29th March.
It's also a leap year!
The last time we had a leap year, it was February 2020 … and so much has happened since them.
Whitby is steeped in history and in 2024, we'll certainly be paying a visit to Whitby Abbey, the harbour and the lighthouse.
If you want to join us 2024, there are so many places to visit nearby, too, including the North York Moors National Park our local museums, the Cinder Track and the Cleveland Way National Trail.
We'll even keep our popular parking blog up to date as we move through the winter and into spring and summer.
Guaranteed Here at the Riviera Guesthouse
So few things are guaranteed in life.
However here at the Riviera, you are guaranteed a warm welcome, a comfy bed for your stay, a truly wonderful location and of course, a scrumptious breakfast that will set you up for the day.
Over the winter we tackle the jobs that simply can't be done when we are full to the rafters.
This includes painting, decorating, checking to see what needs repairing and seeing if we can improve any elements of our business.
The high traffic areas such as stairs and landings, get a thorough close up inspection and the DIY list begins.
We are so lucky that we have wonderful guests, some who come back to us on a regular basis
We also welcome guests who visit us for the first (yet hopefully not the last) time.
With our family growing up fast, life is passing us by at a frantic pace.
It is nice to take a little step back at this time of year before we prepare for 2024.
Book Your Break Today!
If you're thinking of joining us for a staycation, don't leave it too long.
It might seem a long time away, but 2024 will be here before we know it!
We would like to thank all our guests, staff, friends and family for all their support in 2023.
It has been a rollercoaster year.
All we have left to say is … Merry Christmas … Happy New Year … and we'll be blogging again in January.