The North Yorkshire Moors Railway's Light Spectacular Express returns!
Starting 27th October to 5th November 2023 and on the 10, 11th and 12 November 2023, we can't wait to jump on board!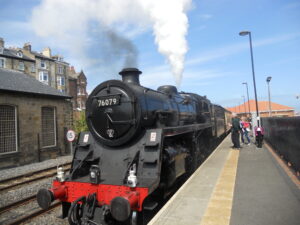 Departure times are 6.15pm or 7.45pm, making the most of the dark evenings.
All trains depart from Pickering Station, and the journey includes a spectacular one-hour journey in a stunning historic carriage.
The train will make its way to Levisham, which includes a pretty station, before returning to Pickering.
The carriage is lit with thousands of twinkly lights … and as you board, there will be a DJ-mixed play list to get you 'in the mood'!
If you've enjoyed this experience before, then organisers state it's going to be even better this year.
Make Sure You Get Your 'Key'!
Pre-booking is strongly advised as this is a popular event.
Ticket holders will get their very own interactive LED wristband, which is not only your 'key' to the show, it also syncs up with the music.
This means you are part and parcel of this fun experience!
Voiceover Man
Ticket prices also include on-board narration by Voiceover Man, along with music.
Buy your tickets here … they'll sell like hot cakes!
Ticket prices are £25 per person.
See what it's like on YouTube!
What About the Santa Specials?
Another annual favourite of ours is the North Yorkshire Moors Railway's Santa Specials, which take place on board The Santa Express.
This is a chance to join Santa before his busiest night of the year, along with his team of elves.
You can board at either Grosmont or Pickering Station, and the dates are as follows:
25th and 26th November; 2nd, 3rd, 9th, 10th, 16th, 17th, 23rd and 24th December 2023.
Departure times are: Pickering 9.55am, 11.25am, 1pm and 2.55pm.
Grosmont: 10am, 11.30am, 1.05pm or 3pm
Those who know Santa is real will not be disappointed as he makes his way along through the heritage carriages, and each child will also receive a special soft toy to take home.
Tickets cost just £30 per person.
Find out more here: https://www.nymr.co.uk/Event/santa-specials
Online Resources
Whether it's for fun or for the classroom, the North Yorkshire Moors Railway website includes printable activity sheets!
You can even build your own model train.
Some Facts and Figures
Did you know …
In 1835, the line between Whitby and the Tunnel Inn, now Grosmont, opened
Grosmont was then a focus for new industries, including stone quarries, lime kilns and ironstone mines
From one person in 1972, the railway now has over 550 volunteers
The North Yorkshire Moors Railways Trust is a not-for-profit charitable organisation
In 2007, the passenger operation of NYMR extended to Whitby
In 2014, a second platform was opened at Whitby
Did you know, the railway is in the heart of the North York Moors National Park
Book Your Stay At The Riviera Guesthouse!
We are only a short drive from Pickering, situated in the beautiful town of Whitby.
Why not book your stay with us this Autumn?