Goodbye, Nala
Difficult though it is to write this blog post, we as a family owe it to Nala, our gorgeous, loyal and lovable Cavapoo.
Nala was the pooch-shaped being who brought her own type of love to our family.
She very sadly passed away towards the end of January 2023, an event which left us devastated.
Of course, she'll always be in our thoughts, hearts and memories.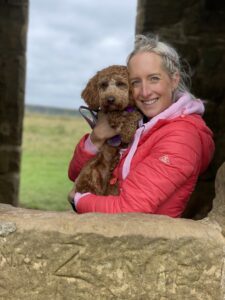 A Very Sad Day
So, after two years of 'pawsome' antics, Nala tragically passed away far too soon.
Words cannot describe the heartache we all feel.
We can't really remember life before Nala.
It has taken us a while to screw up the courage to post about our sad loss on Facebook and Instagram.
Our lovable, snuggly, happy pooch whose love was unconditional is now at rest and we are slowly trying to adjust to our new family structure.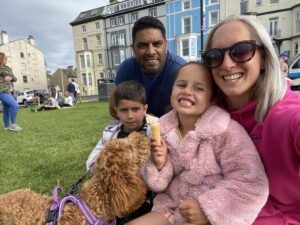 Magical Memories
Our toffee-coloured, soft coated pet joined us in late January 2021.
I must admit we didn't really know what to expect when it came to puppy 'love'!
Yet we felt we just needed a special, canine member of our family.
From the moment we saw her as a very young pup, we adored her.
With her bright, inquisitive eyes to her soft paw pads to her shiny, black nose, we were smitten from the start.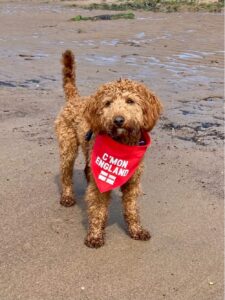 Nala was such a fun 'toddler' to have around!
She got up to all sorts of things and yes, she had a few accidents.
We helped her by using positive reinforcement, which Nala responded to.
It wasn't long before she was a truly special member of our family unit and an important part of our working day.
She was always there by our side and loved nothing more than a snuggle with her family.
From Puppy to Companion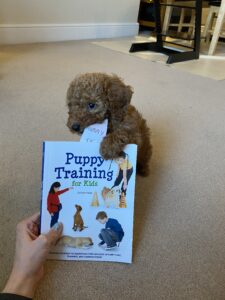 Her playfulness gradually became utter devotion and loyalty for us.
How lucky were we?
We even managed to find a collar and harness in our Riviera Guesthouse brand colours.
Her curls straightened out slightly and her ears became these silky things with a life of their own.
Each day began and ended with Nala at our side.
She knew when one of us was feeling a bit down, and when one of us was happy.
Her quiet companionship was something we never took for granted.
Nala shared our happy times, our busy times and our challenging times.
Her curiosity was always a joy to behold as she was interested in so many things: new smells, new shapes, new doggy friends and loved to eat her food from puzzle toys.
Beach Walks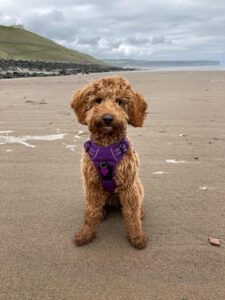 Nala liked nothing better than a play on the beach.
This was her absolute favourite thing to do along with chasing her bright orange ball.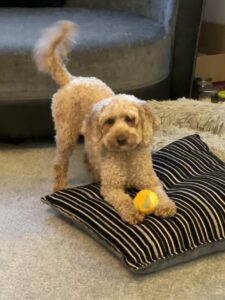 In the summer, she liked to get up early to avoid the hot weather.
And she never, ever said no to a lick of ice-cream!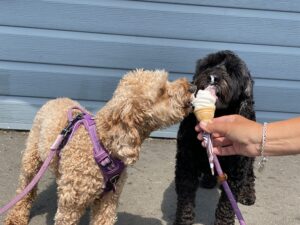 Nala became a familiar sight in Whitby as she played on the Crescent, strolled along West Cliff or raced around on the sands with us in tow!
Nala absolutely loved Sarah (Take the Lead) who was her dog walker on a Friday and I just had to mention her in this blog because Sarah and Nala had a beautiful bond.
When Sarah arrived at 10am, Nala used to actually chat to her and tell her all about her week – it was magic.
Guest Appearances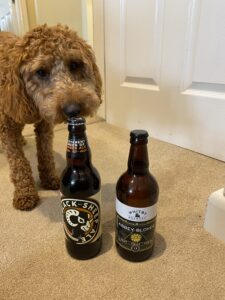 Nala was also a great hit with our guests!
She became part of the Riviera experience.
Being a 'lockdown puppy', she didn't have all the experiences with strangers we'd have liked her to.
She rose to the challenge as a teenage dog and although sometimes she'd warily go up to people she didn't know, she quickly found comfort in strokes from our guests.
She just LOVED attention and snuggles.
Nala was such a clever dog, wise beyond her years.
We spent many hours in lockdown training her with various tricks which she perfected and loved to practice.
And of course, many of our guests adored seeing Nala.
We know our guests will feel her loss keenly as well.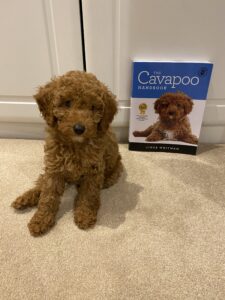 Why a Cavapoo?
A mix of the King Charles Spaniel and the Poodle, Cavapoos are intelligent, loving, loyal and also their fur is hypoallergenic.
They do need regular cuts with a dog groomer.
Nala was not a fan of having her hair done but Zoe (at Heart Dog Grooming) made her feel as relaxed and reassured as she could.
They are classed as a small breed too … but with huge hearts.
When we were fortunate enough to be able to take a pooch into our home, these points were important to us, and we did our research.
What's next
We are still adjusting to Nala's absence.
Every now and again one of us forgets that she's no longer here.
We can often hear her paws making their gentle padding noise on a carpet.
Her bed still bears her imprint.
We can't bear to part with it yet and we are sure that Nala is safe, over that Rainbow Bridge and she'll be at peace.
Our family was so blessed to have known her.