Yorkshire's Beaches … Our Ultimate Guide …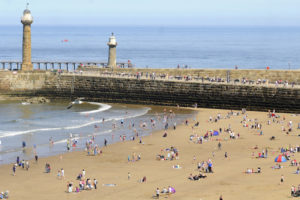 The Yorkshire Coast includes some of the best beaches in the UK.
Here is our ultimate guide to our local shores so you know where to go with your bucket and spade!
As with ALL beaches, always, always check the tides, keep clear of under cliff areas (in case of landslides).
Always be prepared for sunny or showery weather.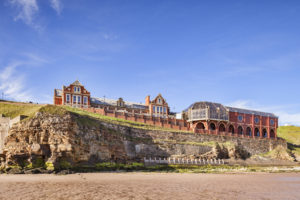 Whitby's Beaches
Whitby is known for its Abbey, Dracula connections and of course its lovely beaches. The resort has a selection of tempting sandy stretches!
Tate Hill Beach
A small beach, hugging a spot beneath the cliffs, featuring a mix of sand and shingle.
Close to East Pier, it is also dog friendly all year round.
This particular beach is not patrolled by RNLI Lifeguards.
You can reach this beach from Church Street and it's not too far from the 199 Steps.
West Cliff or Whitby Sands Beach
Within yards of Whitby's beach chalets, this mainly sandy beach (which also features some rock formations) is Whitby's most popular seaside spot.
Dogs are not permitted from May to September.  There is a lifeguard between May and September.
You can access this beach from North Promenade, and from parts of the Cleveland Way National Trail.
Upgang Whitby Beach
Arguably the less well-known of Whitby's Beaches.
You can find this between Sandsend Beach and Whitby's West Cliff Beach.
It is dog friendly however it is not patrolled by lifeguards.
There are plenty of golden sands and some shingle at low tide.
Beaches Further North
Sandsend Beach
Unless you can safely walk the distance between Whitby and Sandsend, you might need the car to reach this one.
While dogs are not permitted (May to September) it does have lifeguards keeping an eye on things during the height of summer.
This beach is popular with swimmers during the summer, however there is a very strong rip tide so all swimmers must take care.
Once the tide is out, the sea reveals lots of exciting rockpools to explore with crab nets!
Fossil fans and jet hunters  also visit nearby Sandsend Ness.
Sandsend Ness is not suitable for swimming and you MUST check the tides with this beach if you don't want to be in danger of being cut off.
Saltwick Bay Beach
A little beach with access by steps only.
This is a steep ascent so take care if tackling it.
It is dog friendly but is not patrolled by lifeguards.
This beach is secluded and care should be taken if visiting it, particularly during poor weather.
Runswick Bay Beach
Arguably one of the most idyllic beaches on the Yorkshire Coast.
Car parking is at the top of the steep access road that leads down to the beach.
Rocks, stones and sand make up the beach surface.
Dogs permitted but no lifeguards.
It is a lovely beach and is worth the steep walk!
Staithes Beach
Similar to its sister beaches, Staithes Beach is accessible by a steep path and is surrounded by majestic, wooded cliffs with the village hugging the shoreline.
It is a beach that's inspired famous painters including Laura Knight.
Sandy and secluded, it is a delight to visit.
It has its own small harbour.
Dog friendly but no lifeguard patrols.
Beaches Further South
Robin Hood's Bay Beach
This stunning fishing village which hugs the coastline is a favourite with both locals and visitors and as a result can be very busy during the summer months.
Robin Hood's Bay Beach is accessible at low tide and be warned as the tide comes in very quickly and smothers any rockpools and sandy stretches at speed.
There is no parking nearby so be prepared for a steep climb back up the hill to your parking spot!
You can take the dog but there are no lifeguards.
Boggle Hole
One of our favourites!
This beach includes pebbles, sand and some amazing cliff formations.
At low tide, you get a sense of being a sea level with some secret caves also being revealed.
It's a trek down to the beach itself which has no parking nearby.
You can take your dogs on this beach, however there are no lifeguards.
This stunning little hidden gem is also on the Cleveland Way.
Ravenscar
This beach is rocky and is a haven for seals.
It isn't easy to get to and can only be accessed at low tide.
There is a National Trust visitor centre nearby and parking.
Scarborough's Beaches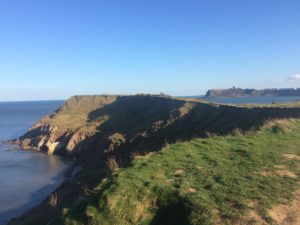 North Bay Beach
With its combination of rockpools, sand and chalets, the North Bay Beach at Scarborough also includes the SeaLife Sanctuary, North Bay Railway and several pubs, cafes and shops.
This beach tends to be quieter than its sister beach in the South Bay.
Dog bans in place on the main stretch of beach between May and September.
RNLI lifeguards patrol it during the high season.
The tide varies in terms of where it reaches so don't be fooled by a low tide, and it can be dangerous during stormy weather.
South Bay Beach
Follow the Marine Drive (allow about 45-minutes walking time) and you'll eventually arrive in Scarborough's South Bay.
With its bustling harbour, South Bay Beach is sandy until you get to the Spa area where rockpools prevail.
This beach is popular with families as it's close to the amusements, cafes, and ice cream shops.
It also has donkey rides in the summer.
Again, dogs are not permitted on the main stretch of sands from May to September.
Lifeguards patrol it during the summer months.
Cayton Bay
Stunning and cove-like, this beach has a very steep descent so be careful if you have a pushchair or similar.
Dogs are permitted on this beach which is a mix of sand and rocks but it's too remote for lifeguard duty.
Popular with surfers but a high tide, the beach is covered completely by the sea.
Beaches Further Away
If you fancy a drive along the Yorkshire Coast, then you're spoilt for choice in terms of beaches.
Hunmanby Gap
Dog friendly with golden sands, cliffs and stunning views.
You'll need to park near the top of the access road.
Dog friendly but without lifeguard patrols.
Filey Bay
Filey Bay Beach is golden and BIG although the tide can cover the whole of the beach at its height.
The nearby Filey Brigg is a natural landmass which protrudes into the North Sea.
Be warned as many people have been cut off on the Brigg and it's not a place you want to be in at high tide.
Filey is also on the Cleveland Way National Trail and is the start/finishing point of the Yorkshire Wolds National Trail.
Follow the Beach Code
The beaches in our guide are there for you to enjoy.
They are amazing places to enjoy the great outdoors with sun, sea, sky and sand in abundance.
However as with all natural, outdoor places, you have an important role to play for both the safety and preservation of these maritime natural habitats.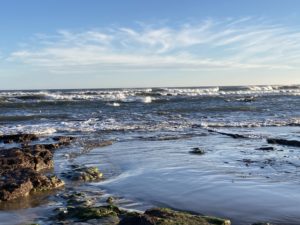 Here's a list of friendly 'do's and 'don'ts'.
Do check tides and wind speed
Do dress appropriately, including footwear
Do bring suntan lotion
Do explore rocks sensibly keeping your hands free to help with climbing and clambering
Do keep an eye open for broken glass, jellyfish and other sharp objects
And then …
Don't go near cliff edges
Don't throw anything over cliff tops
Don't enter the sea if you are at all unsure and children must be accompaniedat all times
Don't swim in the sea unless it is permitted and only then if you are a confident swimmer
Don't touch any bottles, drums or similar in case of toxic substances
Conservation Code
Observe, don't disturb – don't remove living things to take home and return seashore life to its own place
Never pull out the living seaweed as it can be home to small creatures
Leave the beach as you found it- clean, tidy and without abandoned buckets and spades
If you collect shells and sea glass then only take a small amount of each
Take your litter home with you (or place them in refuse bins or recycling bins)
Be Inspired by Our Beaches
We never take our beaches for granted!
Did you know that lots of famous writers and artists also LOVE Yorkshire beaches?
These include Bram Stoker, author of Dracula , Lewis Carroll, who penned the Alice in Wonderland books, and Leo Walmsley, whose classic books have recently been reprinted.
Photographers such as Frank Meadow Sutcliffe loved Whitby and the surrounding area.
The Staithes Group of Artists, whose works are featured in the Pannett Park Museum, loved the village.
Film crews have also visited the Yorkshire Coast for films and TV series such as Harry Potter, Heartbeat, and Dad's Army.
What To Do Next
If you haven't already, then be sure to book your stay with us this summer so you can enjoy some of the beaches listed above.
You can check our latest availability here.
Our beaches have been here for millennia and are one of the many reasons people enjoy visiting Whitby and the Yorkshire Coast.
No doubt they'll be popular for many years to come if we all do our part and look after them.