Our Guide to Parking in Whitby
Parking in Whitby
The Riviera Guesthouse overlooks the stunning Yorkshire cliffs, coastline and North Sea in the lovely seaside town of Whitby.
And therein lies the problem.
With such a lovely town to visit, where do I park, we hear you ask.
With the ocean on one side, and dry land on the other, this means parking is already at a premium.
Unless, of course, someone comes up with a giant inflatable car park!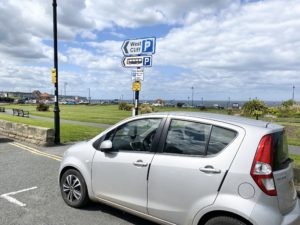 One of our FAQs – Where Do I Park?
If you are getting to Whitby by car, then one of your primary concerns is where to park your vehicle.
As with any seaside resort, parking is always a prominent consideration, and Whitby is no exception.
This article will tell you where to park your car during your staycation holiday with us here at the Riviera Guesthouse.
More information can be found on our 'contact us' page by clicking here
You can also book your stay with us here.
What About the Winter?
The good news is in certain areas of Whitby, from 1st November 2022 to 1st March 2023, parking is free!
However this finishes on Tuesday 28th February 2023, so please be aware of charges coming back into force from this date.
It is easy to make a mistake.
You can also find out more on the Council's website.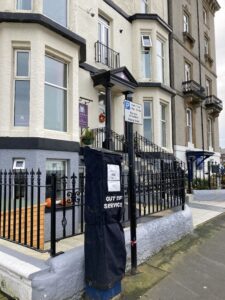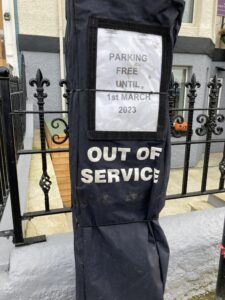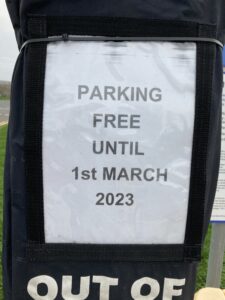 Disk Zones
This baffling term even confuses those of us lucky enough to live here!
Disk Zones offer guests and visitors the chance to park for FREE for up to three hours in some of Whitby's 'hot spots'.
Here at the Riviera, we've got our heads around the Disk Zone areas.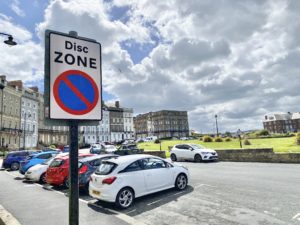 There is also a map, below, to help explain where they are and how long each zone permits free parking.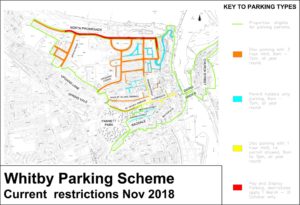 It is worth noting there are also Permit Holders Only zones, which we would advise guests to observe if you don't want a rather hefty fine.
In a nutshell, short stays disk zones last from 1 to 3 hours.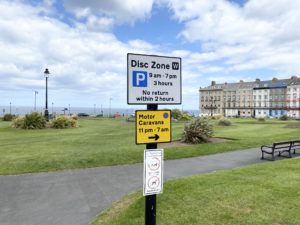 You will need a disk to display in your windscreen in order to park in these locations.
Or just write the time of your arrival on a piece of paper and pop it somewhere visible in your windscreen until you get your disk.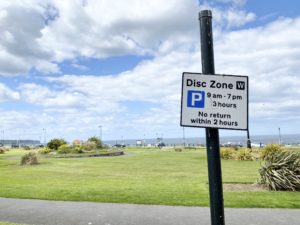 Scratch Cards 
Some local hospitality places offer scratch cards, depending on where they are located.
We're happy to say that we are one of these!
These relate to particular streets and areas of Whitby in which visitors can park subject to the scratch cards being used correctly.
You can park in the Disc Zone areas of Whitby of which there are many around our Guesthouse.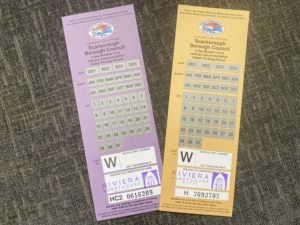 It goes without saying that guests staying with us here at the Riviera, will be offered a scratch card.
These are only £2 and last up to 4 days. You can get one of these when you check in at the start of your stay.
You can ask us about them or find out more here.
Car Parks in Whitby Part One
So, let's list some of the paid-for parking areas in the town.
We understand many people groan at paying for parking.
However, we've yet to come across a holiday destination that doesn't charge for the privilege of bringing your car.
Car parking also raises much-needed revenues for the town and in some cases, car parking is free after 6pm.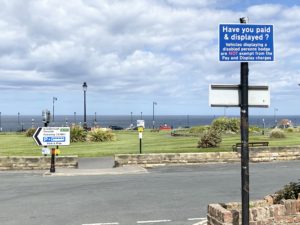 There are a number of Scarborough Borough Council-run car parking facilities, including:
Church Street Car Park, postcode YO22 4AS
Charges apply between 9am and 6pm so it's free after 6pm.
Endeavour Wharf Car Park, postcode YO21 1YW 
Be sure to check when parking charges apply at this one.
There is also Cliff Street Car Park, postcode YO21 3DD, charges apply between 9am and 6pm so it's free after 6pm.
You can park at the Abbey Headland car park, postcode YO22 4JT.
Parking charges here are on operation 24hrs a day and there is CCTV.
(All details correct at time of writing).
Car Parks in Whitby Part Two
As well as the locations above, you can park your vehicle in the Marina Back car park, postcode YO21 1YN.
Charges apply round the clock.
Then there are smaller streets to park in (bear this in mind if you have a larger vehicle).
St Hilda's Terrace is at postcode YO21 3AE. Parking charges are in place twenty-four hours a day. 
Then West Cliff car park, which isn't too far from us here at the Riviera Guesthouse, can be discovered at postcode YO21 3EG. 
Pavilion Top Car Park is also close to us at the Riviera.
You will find this car park at postcode YO21 3EN. 
Be sure to double check when parking charges apply.
(All details correct at time of writing).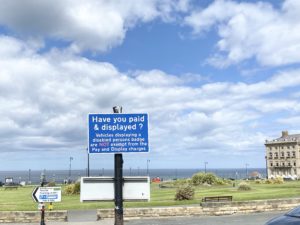 What About Distances?
One thing many visitors underestimate is the distance from the heart of the town or from Whitby's beaches to their chosen car park.
Allow at least 15 minutes to 20 minutes for walking back to your car.
This means you return in good time, before your paid-for parking 'slot' runs out.
As with any town or city, parking fines apply if you outstay your welcome, intentional or otherwise!
What About Disabled Parking?
As far as we know, there is disabled parking at West Cliff and Church Street.
Drivers will need to check the parking charges.
If you have a blue disabled parking badge then you can park outside the Riviera Guesthouse in the Pay & Display areas for free.
(Correct at time of writing).
What About Prices?
Guests often complain about the cost of parking, whatever the charge.
It is something we would suggest that guests take into consideration when planning their holiday budget.
There is free parking in the Disk Zones however you are limited as to the length of stay in these locations.
The Pay and Display areas have tariffs that vary every year.
Most of the parking meters still take coins, so have some spare change with you.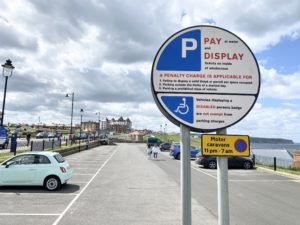 If you are staying with us at the Riviera Guesthouse, you will be offered a Council-issued parking scratch card which is £2 and last up to 4 days.
Details correct at time of writing.
What About Special Events?
Whitby hosts a number of special events during the summer.
This means additional car parking restrictions might be in place.
If this is the case, then usually the local paper's website, the Whitby Gazette  will publish details in the run up to events so you are prepared.
Some Useful Apps
In the era of smart phones and tech, there are some useful apps which can give you an idea as to whether a car park in Whitby has spaces or not.
Some of our car parks use RingGo as a means of paying for parking and you can find out more here
Park and Ride
This is useful if you are staying outside of Whitby and plan to visit the town, or are planning a day visit.
Our Park and Ride is run by North Yorkshire County Council, usually opens from Easter to mid-October.
For 2023, the Park and Ride in Whitby is in operation from 2nd April to 5th November.
The postcode is YO21 1TL and you can see more detail here. 
Located north of Whitby, dogs can also travel on the bus although this is at the discretion of the bus driver (no charges for dogs).
Electric Vehicle Charging
 If you are lucky enough to own an electric vehicle, then one question you'll be asking is: where can I charge my car?
As those of you who have an electric car or a hybrid will know, the infrastructure is patchy in some places.
Whitby and the surrounding area do have some EV charge points, as follows.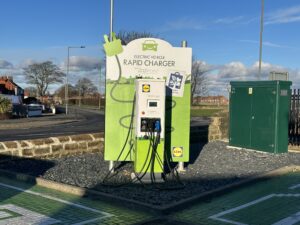 Lidl in Whitby, postcode YO21 1hS – this store has recently had a makeover and has a new electric car charging port in their car park.
Aldi in Whitby, postcode YO22 4PU.
Loftus Car Park, TS13 4HW
North Road Car Park, Saltburn-by-the-Sea, postcode TS12 4HR.
Some hotels offer a charging facility.
Due to the heritage style of many of the Whitby's hotels and guesthouses (lots of steps; raised entrances), it is not always possible to offer EV charging to guests.
There is also an Open POD Charging Point at Fairfield Way in Whitby, postcode YO22 4PU.
The local Councils are aware of the lack of EV charging points both in Whitby and in Scarborough.
If you are using your electric vehicle for your holiday with us, then you need to plan your journey accordingly.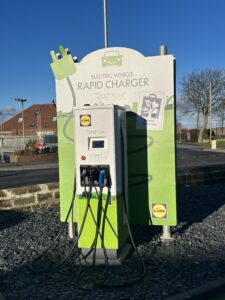 According to the local council, in Autumn/Winter 2022, 48 new electric vehicle chargers will be installed across the Borough.
Whitby will be 12 charges, Scarborough will get 27, Filey will get 3 and 2 each for Robin Hood's Bay, Staithes and Runswick Bay.
The chargers will be a mix of 7w and 22kw.
The new chargers are funded by the On Street Residential Charge Point Scheme from the Office for Zero Emission Vehicles with support from the Energy Saving Trust.
The link below takes you to the carwow interactive Electric Car charging point finder tool, helping EV and hybrid car owners find the nearest electric vehicle charging stations.https://www.carwow.co.uk/electric-cars/charging-points
You can view the live interactive tool here:
Other Towns
EV charging is slowly improving in the area and nearby Scarborough has facilities, too.
These can be found at the Pavilion Square Car Park, opposite the Railway Station.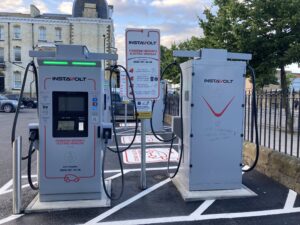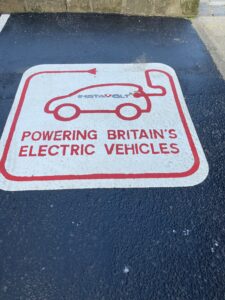 There is another installation at North Terrace Car Park near the Scarborough Arms pub.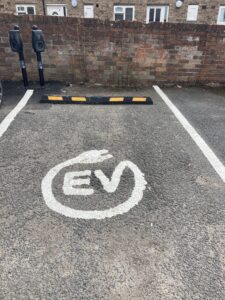 What About Parking at Attractions?
Visiting attractions such as Dalby Forest, the North York Moors National Park and places such as Falling Foss will include a mix of parking types.
Some offer free parking while others will charge.
Again, it is a good idea to check out the venue first so you're not caught out if a parking charge applies.
What About Public Transport?
If you are planning to get to Whitby by public transport, there are a number of ways you can do this.
Whitby is lucky in that it has access to a regional rail network including the Esk Valley, North Yorkshire Moors Railway and public trains run by Northern Rail.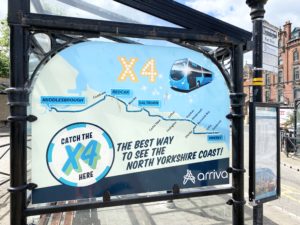 Find out more about Northern Rail here
Whitby is well-served by the railway network.
Many people ask if the Scarborough to Whitby Railway Line is open.
Sadly, this route fell victim to the Beeching Cuts several decades ago.
However, the Cinder Track, which follows this stunning railway route, is open to cyclists, walkers and runners.
It stretches along 21 miles between coastal towns of Whitby and Scarborough.
Whitby is very well served by Arriva buses, running from Scarborough to Whitby and Middlesbrough, calling in at Robin Hoods Bay and other places.
These buses also have return routes from these destinations.
The buses run regularly during the summer months and have a more limited timetable during the winter.
If you love the tourist experience, then Whitby has a number of open top and sightseeing bus tours to choose from. 
If you need a taxi, then we are happy to advise a reputable company for you.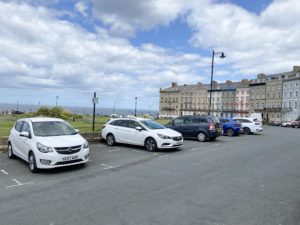 What To Do Next
Here at the Riviera Guesthouse, we understand using a car to get about is usually the easiest option.
While the cost of fuel will prompt many of us to maybe think twice about an extra journey or a short trip the shops, car use during a holiday means you can make the most of your staycation!
This article gives you a broad view of the parking here in Whitby.
We are happy to answer parking questions where possible, too.
The best thing to do is come prepared, do your research and plan your journey.