Ten Whitby Dinosaur and Fossil Facts
Love dinosaurs and fossils? Here are ten dinosaur and fossil facts about Whitby you maybe didn't know!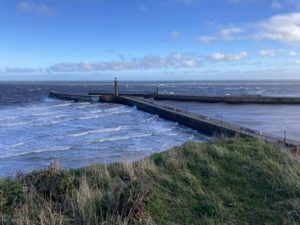 Calling All Dinosaur and Fossil Fans!
Love the film Jurassic Park? Do you have a dedicated dinosaur fan in your family? Is fossil hunting 'your thing'? Then if you book your holiday in Whitby on the Yorkshire Coast, you are in a dinosaur hot spot!
Whitby and the Dinosaur Coast
From the River Tees in the north, down to the impressive, chalky cliffs of Flamborough Head, which is a short distance from Bridlington, the Dinosaur Coast not only looks amazing; it is also a place to set out on a fossil hunting expedition!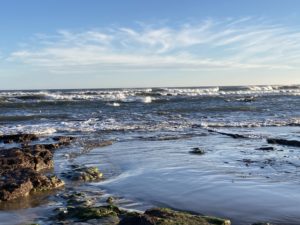 Plan your Trip
Before you head for the day, here are some important rules to follow:
Check the tides carefully.
Search for fossils in beach material that is already loose.
Make sure you record your finds (time, place, date, what you find).
Don't disturb wildlife or habitats while you're searching.
Stay AWAY from steep cliffs … landslides and cliff falls happen at any time.
Wear appropriate footwear and clothing.
Always accompany children on any fossil hunting treks.
Tell someone where you're going.
Plan your fossil hunting expedition carefully so everyone is safe.
Equipment You Will Need
The best thing to do is go on a fossil hunt with a professional who knows exactly where to search in a safe way.
See our list at the bottom of this blog for further information.
If you are heading out, then you'll need some tools.
A chisel will come in handy. A geological hammer is also essential. Both of these need to be used with care.
Safety goggles are also a good idea to protect your eyes from any flying grit or slivers of stone.
Know how to read a map properly and don't rely on your phone, which may not be able to pick up a signal or data in remote places.
Take a good, waterproof bag to store your tools and finds in. Sometimes you also need material to wrap your finds in too, particularly if they have sharp edges.
A good old-fashioned notebook and pen or pencil will help you write up your finds.
A very good, sturdy pair of boots or shoes is essential along with suitable weather-proof gear and don't forget the sun lotion!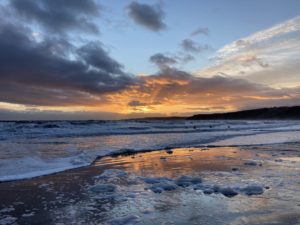 Fact One – Amazing Ammonites
Ammonites are found on and near Whitby's beaches.
These marine cephalopods have a distinctive shell-like shape.
It is thought they became extinct at the same as the dinosaurs, around 65 million years ago.
If you wander around Whitby itself, you should be able to spot the famous ammonite stone sculptures situated close to the swing bridge.
Fossils of these ocean-dwelling molluscs can be discovered if you look carefully along Whitby's beaches when it is safe to do so.
Fact Two – Brilliant Belemnites
These look like an elongated, pointed 'shell' and became extinct at the end of the Cretaceous Period.
These were also marine animal, belonging to the cephalopod class.
Squid-like in appearance they are sometimes called the bullet stone due to their shape.
Again, these should be fairly easy to spot.
Fact Three – Jetting About …
Of course, Whitby is well known for its jet, the organic gemstone that started its life millions of years ago as a Monkey Puzzle tree.
Thought to be around 180 million years old, you can read our jet blog and find more about this stunning black stone.
There is a skill to finding jet along Whitby's shorelines. Make sure you read out blog before you set out!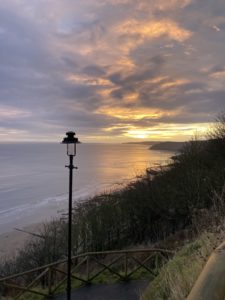 Fact Four – Fool's Gold
No, not the song by the Stone Roses, but the eagle-eyed fossil hunter can sometimes spot fool's gold along our coast.
Staithes is a good place go find it.
Fool's gold is actually iron pyrite, and looks very like its more precious counterpart.
Fact Five – Marvellous Megalosaurus
A huge footprint was recently discovered on the Yorkshire Coast: that of a 30ft, meat-eating dinosaur, possibly that of a Megalosaurus.
Plans are to have it displayed at a local museum. We'll keep you posted if we find out more about this … we certainly want to see it!
If you keep your eyes open, there might just be another huge footprint, just waiting to be discovered!
Fact Six – See ENORMOUS Fossils in Whitby!
Whitby Museum is home to an impressive fossil collection including ammonites and massive marine reptiles, including theichthyosaurus crassimanus and the teleosauruschapmani.
The story behind the teleosaurus chapmani is that a carpenter from Whitby spotted the snout sticking out of the cliff and excavated from the cliffside in the early 1800s.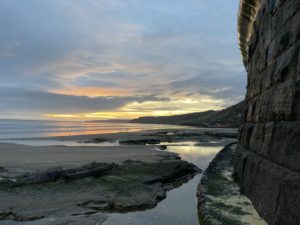 Fact Seven – Great Gastropods
As Whitby, Staithes and other villages close by offer lots of fossil opportunities, you can head further afield for some more unusual finds.
Cayton Bay, better known for its surfing, has given up a gastropod or two from time to time. Rather like a winkle, these are a great find if you spot one.
Getting to Cayton Bay, though, is tricky. Parking is limited and there is a very steep path to the bay itself. The tide is pretty harsh too, coming right to the cliffs and extreme care must be taken.
Always plan a visit to Cayton Bay with extreme care.
Fact Eight – Plant Life
When dinosaurs roamed the Yorkshire Coast, it is thought sea levels varied and the water temperature was warmer, meaning the ocean teamed with life.
Fossilised plants are be spotted both inland and along the coastal strip, including stunning ferns and conifers.
Dark imprints of leaves are often be found on pebbles and stones. They look beautiful and are a real find if you discover one.
Fact Nine – Not Just the Coast
The whole region has some fossil 'hot spots' including the Vale of Pickering, the Yorkshire Wolds, the Tabular Hills and the North York Moors.
These places are a car drive away from the Riviera Guesthouse and it is best to do your research first.
Always go prepared as many of these places are remote.
Fact Ten – Other Places Along the Coast
These include Robin Hoods Bay, Cloughton and Ravenscar.
Truly lovely places to visit, you can plan a day exploring these locations and maybe find time for some fossil hunting too.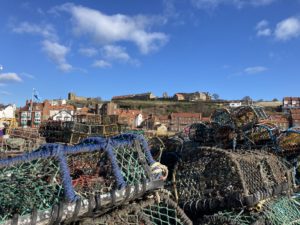 Do I Need to Report Any Finds?
If you find small fossils, then you can keep these.
However, if you find a full dinosaur skeleton or a very large fossil, then you should report it. Exciting if you do!
Other helpful information:
The Dinosaur Coast by Roger Osbourne
Beach Finds on the Yorkshire Coast leaflet
The Fossil Shop in Scarborough
The Rotunda Museum, Scarborough
Geology of the North York Moors
And Finally
… here at the Riviera Guesthouse in Whitby, you can book your stay with us and explore the prehistoric links along the coast! Book with us today!