Our Ultimate 'Fish and Chips' Guide to Whitby
Here at the Riviera Guesthouse, one of our favourite 'takeaway' dishes is … fish and chips!
And living in Whitby, we're spoilt for choice if we want to indulge.
The smell alone is hard to resist!
Yet while we enjoy our tasty meal, we wonder … how did it all start?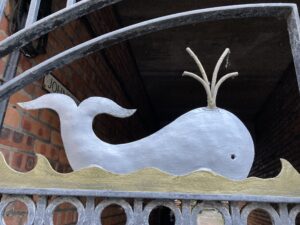 What Are Fish and Chips?
Fish and chips include white fish smothered in batter accompanied by freshly cooked potatoes – Yorkshire ones preferred! – that have been cut into chip shapes.
The varieties of fish are usually cod or haddock, landed hopefully not far from our shores, covered in tasty, crispy batter and cooked in oil.
Then let's not forget that sprinkle of salt, a generous swish of vinegar …
Of course, you can have extras such as mushy peas, bread and butter, all washed down with a cup of freshly-brewed tea … bliss!
The Spud
While we often think there's nothing more British than a spud, potatoes first came to us in the mid-seventeenth century.
It is thought Sir Walter Raleigh brought them here following one of his voyages.
So, the chipped potato hasn't always been a 'native' of our shores, yet now it's a staple on many plates of fast, quick food.
Good varieties of spuds for chips include Ramos, Agria or Maris Piper.
Other varieties are King Edward and Sante.
The chunkier the chip, the better they are as a rule as bigger chips absorb less oil and are perhaps the healthier option.
The Fish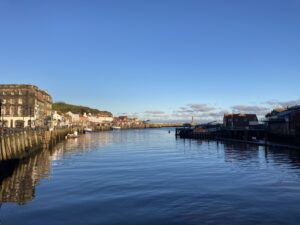 As we know, the local fishing industry often faces challenges.
Yet the landing of fish in Whitby has taken place for centuries.
According to the local council website, Whitby Fish Quay is on the west side of the outer harbour.
This area is reserved for the mooring of vessels landing fish items, which have been caught in the North Sea and from other sea areas.
The Batter
There are countless foodie fights over the best batter, and which ingredients are needed for it.
Many a classic batter includes beer.
The fizz of the beer can help the batter become even more crispy.
Yet fish and chips shops each have their own recipe, which are closely guarded secrets.
Fish and Chips
It is thought the Spanish and Portuguese Jewish community first brought the idea of fried fish to the UK.
The First Fish and Chip Shops
There are varying tales about where the first fish and chip shop are established.
Lancashire, Yorkshire and London all claim to be first to invent this traditional seaside treat.
London certainly featured fried fish houses in the mid-1800s.
Mossley, near Oldham in Lancashire is thought to have been the location for the first fish and chip shop, opening its doors in about 1863.
The first shop was thought to be a wooden hut in the market before it was transferred to a permanent building.
Yet at around the same time, it is thought the first fish and chip shop was set up in East London.
You could even hear Bow Bells as you ordered!
Early apparatus was rudimentary, with a large cauldron of hot fat heated over a coal fire.
Just think of the health and safety of that scenario!
The oldest fish and chip shop in London is the Rock and Sole Place in Covent Garden, dating from 1871.
Front Room Fish Shops
Many businesses, including fish and chip shops, operated from front rooms of homes as a small family business.
By the late 19thCentury and into the 20th, fish and chips shops popped up nationwide.
One in Bradford was so popular, a doorman was employed to control the queues in the early 1930s.
By this time, it is thought around 35,000 shops existed in the UK.
Developments in Fishing Techniques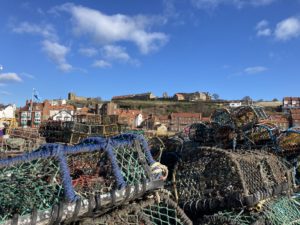 Steam powered boats and railways transformed how fish was transported, making the journey landed fish make much quicker and easier.
Fish could be transported around by train.
You only need to look at Whitby Harbour on a busy day to see the fishing industry is still working today, going out in all weathers to catch our fish.
And our hard-working local farmers grow the potatoes in rich Yorkshire soil.
The fish and chip meal is a takeaway dish that can include several locally sourced ingredients.
The World Wars
In both global conflicts, fish and chips were safeguarded.
Fish and chips weren't rationed in World War Two, so this meal was very popular during the war period.
Portion Control
By way of an example, it is thought 300 million servings of fish and chips were served in 1999.
That is a huge amount of chips!
Of course, fish and chips are heavy on the calorific value side.
However, as a treat when you're on holiday or visiting Whitby, then it's a given!
Life is for living, after all.
Famous Fish Fryers
Film director Alfred Hitchcock lived above a fish and chip shop in London, which was the family business.
Charles Dickens and George Orwell refer to the dish in various ways in some of their books.
Sir Winston Churchill referred to fish and chips as 'good companions.'
Remember the Newspapers?
Back in the day, and perhaps as one of earlier forms of recycling, fish and chips were wrapped in old newspapers.
For those of us that remember that this simply added to the irresistible smells of the dish!
Today cardboard, plain paper or plastic packaging is now used.
Fish and Chips Shops in Whitby
See our list of places to eat for just some of the tempting places to try this delicious repast.
Whitby and other seaside towns are teeming with takeaway emporiums, restaurants and cafes.
The Oldest in Whitby
According to their website, Hetty and Betty in Baxtergate, Whitby, is home to Whitby's oldest fish and chip serving café.
Back in 1928, Mill's Café opened in this location, and over the decades, it was known as one of the many places to enjoy fish and chips in our town.
Fish and Ships Festival
The annual Fish and Ships Festival takes place in Whitby, with this year's date scheduled to be 20thand 21stMay 2023.
The event celebrates the fishing heritage, music and food history of our town.
Stalls are also set to be in place from many a local shop and business.
Dietary Requirements
For some fans of fish and chips, there can be a problem … can you get this tasty treat gluten free?
Whether it's a lifestyle choice or a medical reason, gluten free fish and chips are available in Whitby.
Tummy Rumbling?
If we've got your tummy rumbling and you are yearning for a weekend or midweek stay in Whitby, then you can book here.