Whitby Lifeboats and Shipwrecks
Our coastline can be treacherous and dangerous. It features numerous shipwrecks and incredible Royal National Lifeboat Institution rescues.
This article will 'skim the surface' of the immense bravery and history of seafarers in Whitby and Robin Hood's Bay over the years.
It will also tell you where you can spot a shipwreck, no diving gear needed!
Let's start with one of the heritage attractions that celebrates the remarkable history of our coastline.
You can also read our blog about the beaches you can visit along the Yorkshire Coast.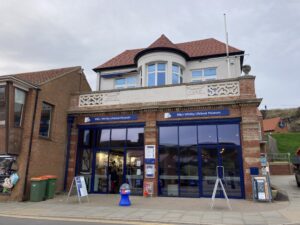 Whitby's Lifeboat Museum
This visitor attraction is located in Pier Road, Whitby
The site is a double boathouse, marking and celebrating the town's award-winning lifeboat history.
It is a fascinating place to visit with exhibits, artefacts, paintings, medals, photographs, mementos and a gift shop.
Lifeboats have been crewed by Whitby folk since 1802 with 36 RNLI Medals for Gallantry awarded over the decades.
The museum was used by the RNLI from the late 1890s to the late 1950s.
Usual opening hours are Wednesday, Friday, Saturday and Sunday 10am to 4pm.
Today's Lifeboat Station
The current lifeboat station itself is situated elsewhere on the East Bank of the River in Whitby Harbour.
According to the RNLI website, the active vessels are the George and Mary Webb (Trent Class Lifeboat) and Warter Priory (D Class Lifeboat).
Previous Locations
According to the archives, Whitby has featured a lifeboat station since 1802.
They've been in various locations throughout the town, including on both the east and west sides of the River Esk.
The current site sits upon the east bank of the river, and is built on the site of a former motorboat lifeboat station.
The RNLI have used this location since 2007.
Whitby's Lifeboats
The Trent Class was developed in the early 1990s, introduced to the RNLI fleet in 1994.
Designed to lie afloat at deep water moorings or alongside a berth, this design was named after the River Trent. This is in line with the tradition of naming boats after UK rivers.
The smaller D Class Lifeboat was first introduced in 1963, the design being an inflatable vessel, highly manoeuvrable, operating closer to shore, in shallow waters and in confined locations, such as inside caves or among rocks.
Daring Rescues
As with many coastal locations, those who work at sea are at the mercy of its conditions. Whitby has seen its fair share of tragedy.
Recollecting these past events brings with them both awe and sorrow in equal measure.
Perhaps one of the most memorable is the lifeboat disaster of 1861, during which 12 lifeboatmen lost their lives.
The Storm of 1861
In February 1861, a devastating storm wreaked havoc on our shores, and the Whitby lifeboat crew launched no less than five times to rescue those 'in peril on the sea'.
While there were successful 'shouts' during this highly dangerous time, one trip ended in tragedy when the boat capsized.
There was a lone survivor, one Henry Freeman, then aged just 25 years of age.
A brickmaker by trade, he turned to fishing by way of making his way in life.
At the time, Henry was wearing the recently-invented cork lifejacket.
The 1861 Disaster cost the lives of 12 lifeboat crew members, six of which lived in Church Street in Whitby.
All but two are buried in St. Mary's Churchyard.
He was later awarded the RNLI Silver Medal, and he saved over 300 lives during his service.
Shipwrecks Along the Yorkshire Coast
It is thought there are more than 530 wrecks off the coast of Whitby.
We think you'd agree it is hard to imagine that number of boats lie beneath the waves.
This high number is also the result of two world war conflicts, during which skirmishes resulted in numerous sinkings on both sides.
Shipwrecks You Can See While Out Walking
While it might sound impossible, there are several wrecks visible at low tide.
Wander around Saltwick Bay at low tide and you might spot the Admiral Von Tromp.
To this day it is uncertain as to how it was wrecked.
It is a relatively recent relic, sinking in September 1976.
There were three survivors, while two other crew members lost their lives.
Discover this wreck by bearing right towards Saltwick Nab and by facing the sea.
Always check the conditions, the tide, and wear appropriate footwear.
MV Creteblock
This is a relic from World War One, or more accurately, just after, foundering in 1919.
The ship foundered at Whitby Scar while on its way to be scrapped.
Find out how to visit this wreck here.
Shipwrecks and Rescues That Are Legendary
As with many coastal locations, there is a shared heritage and memory when it comes to past events.
The rescue of The Visitor in 1881 is perhaps one of the most notable events that have joined the collective consciousness.
The Visitor was a brig that got into trouble in nearby Robin Hoods Bay in November of that year.
The boat flooded and the crew 'abandoned ship', clinging to life in its lifeboat.
As the lifeboat station at Robin Hoods Bay closed in 1855, a message was sent to launch the Whitby Lifeboat.
The seas were so rough, it wasn't possible to row along the coastline, bearing in mind boats at this time were powered by oars.
So, the RNLI boat, the Robert Whitworth, was human-hauled along the six miles of land through driving blizzards and seven foot snowdrifts.
The strenuous journey took two hours using 18 horses and 200 men.
Thankfully, this story has a happy ending in that all survived.
There is a commemorative plaque marking this event in Robin Hoods Bay itself.
SS Rohilla Hospital Ship
This vessel ran aground on Saltwick Nap reef in 1914, just south of Whitby Harbour.
The ship broke into three sections and there were instant fatalities before a rescue could be launched.
Yet it wasn't a straightforward rescue, if such a thing exists.
The atrocious conditions of high gales and enormous waves made a shore rescue unviable.
The John Fielden, one of Whitby's lifeboats at the time, was dragged across a rocky scar and made two successful rescues saving 35 souls.
In all, six lifeboats were launched in an attempt to rescue passengers over an incredible three days of bravery.
Passenger numbers vary in different reports, with around 230 passengers on board.
It is reported that 89 people perished, but again numbers vary.
And one board was Mary Roberts, who survived.
The Liverpudlian nurse has also survived the Titanic sinking in 1912 …
U-Boat SM UC-70
This German Type UC II minelaying submarine was partly responsible for sinking 33 ships, including the Giraldo.
In late August 1918, the UC-70 was seen lying submerged just off Whitby's shoreline.
She was depth-charged by HMS Ouse.
All 31 crew lost their lives.
This wreck now had protected status with Historic England and is considered a war grave.
Other Wrecks
In local and regional seafaring language, skane or skein means to clear out a mussel shell for bait.
However, in this context, the Skane, a Swedish cargo vessel, hit Whitby Rocky in late November 1915.
The boat had to be tugged and beached the following day.
Today it is a favourite with wreck divers.
The Giraldo was torpedoed most likely by UC-70 in late August 1918, five miles north of Whitby.
Ten crewmembers were lost, 13 souls were saved.
The Year of the Coast 2023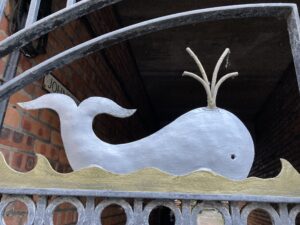 Our guesthouse is located in Whitby on one of the most stunning stretches of the Yorkshire Coast.
This year, 2023, has been designated The Year of the Coast.
It marks the creation of the stunning England Coast Path, which takes in the whole of the English coastline.
While the England Coast Path is naturally based 'on land', it takes in an immense history and heritage of our shores, including that of Whitby and the surrounding villages.
It is easy to forget that we're all islanders!
And as we look at the beautiful waves, see the dolphins and porpoises, whales and seals, this can bely the danger and power of the North Sea.
If you want to stay with us, book here: https://via.eviivo.com/rivieraguesthouseyo21
Useful links:
Diving website:
http://www.eskside.co.uk/dive_whitby/the_wrecks.htm
Lifeboat Museum:
https://rnli.org/find-my-nearest/museums/whitby-lifeboat-museum
The Year of the Coast:
https://englandscoast.com/en/lp/year-of-the-coast