Free Activities In Whitby 2023
Whitby has lots of things to do which are free!
Here, we have our list of free activities is chosen by us and it includes something for everyone.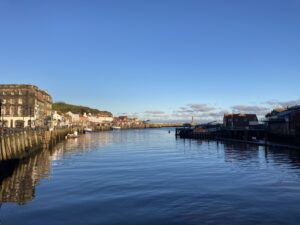 Most of us have a budget for our break, and no-charge activities will cost you nothing.
From educational and inspirational to wellbeing walks, our list will help you keep a hold on the purse-strings.
Whitby Lifeboat Museum
This free attraction includes memorabilia, photographs, ship's models, paintings, artefacts and more.
Exhibits include original equipment used by the Royal National Lifeboat Institution or RNLI.
The free to enter museum is fascinating and can be a humble education in terms of the risk lifeboat crews take.
You can purchase RNLI souvenirs or make a donation to this worthy cause.
Pannett Park Play Area
Close to Whitby Museum you'll find Pannett Park Play Area.
One of our favourite play parks, it includes good play apparatus and seating areas.
The play area is also just a hop, skip and a jump away from Pannett Park Gardens, which look glorious in the Spring and Summer.
These are also free to attend.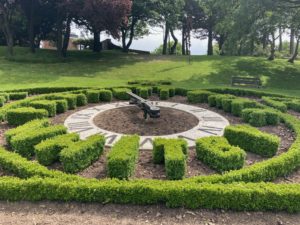 Pannett Art Gallery
Amidst the gardens you'll find the Pannett Art Gallery.
This stunning collection of paintings is free to visit and includes works by the celebrated Staithes Group of Artists.
A must for art lovers.
Church of St Mary
Atop the 199 Steps you'll find the Church of St Mary and its churchyard.
With stunning views, it's worth the effort of climbing the steps.
St Mary's has a maritime heritage with countless seafarers and their families attending the church over the centuries.
You can see some scrimshaw work, and marvel at the windows.
Donations are welcome, too.
Count the 199 Steps
Referred to in Dracula, the famous vampire novel written by Bram Stoker, these steps taken you from part of the town centre up to St Mary's and the Abbey.
Don't forget to see if you can spot the brass numbers and can you reach the top without stopping?
Fossil Hunting
Whitby and other seaside towns are dotted along the Dinosaur Coast.
Millions of years ago, when the giant reptiles roamed freely, they left their mark behind: lots of different fossil types (see our blog here).
Of course, some serious fossil hunters will have professional equipment yet if you have even a remote interest in the subject, you should be able to find ammonites and other shapes.
Always check tide times though.
Find Some Jet
Jet is associated with Whitby and is fossilised monkey puzzle tree, again dating back millennia.
In its natural, unpolished form, it is brown in colour and is very lightweight.
You can also find polished jet jewellery in many of Whitby's local shops.
Visit Whitby Jet Heritage Centre
If you fail to find your own piece of jet, don't worry.
A visit to the Whitby Jet Heritage Centre will make up for it!
This Victorian jet workshop is free to enter.
The discovery of the workshop is part of local folklore.
The workshop was discovered by a local builder, and was carefully transferred to its current location.
Visit W Hammond Museum of Whitby Jet
This free exhibition is another celebration of this time-honoured industry and its related crafts.
Discover why jet became so popular and why Whitby became famous for it.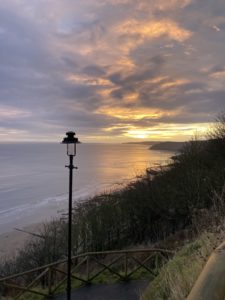 Take in the Sea Views
Whitby's sea vistas are incredible and are free to enjoy!
While you will need to check the tides, the beaches at low tide are beautiful.
The North Sea varies each day, with no two days ever being the same.
From gun grey metal in Winter to deep blue in Summer, the bracing walks are great for your wellbeing.
Under the West Cliff there is a larger beach with some rocky areas.
Also, the smaller beach, Tate Hill, is dog friendly (dog restrictions apply on other beaches are selected times of the year).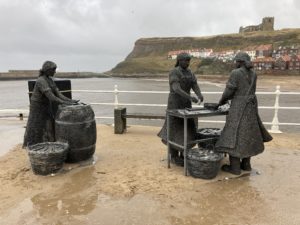 The Whitby Heritage Sculpture Trail
Created by local sculptor Emma Stothard, this town-wide trail celebrates key figures and folklore related to the town.
You can read all about it here.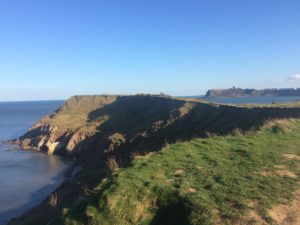 Walk along the Cinder Track or part of the Cleveland Way
Walking is such a great way to boost your mood, and in Whitby you're spoilt for choice for truly epic walks.
The Cinder Track is popular with runners, walkers and cyclists and follows the stunning former railway line from Whitby to Scarborough.
The Cleveland Way is one of the National Trails, and parts of it take in the Yorkshire Coast, including Robins Hoods Bay, Boggle Hole, Scarborough and Filey.
You can also head northwards on this trail, bearing in mind you'll need to work out how you get back to Whitby as it's a linear walk.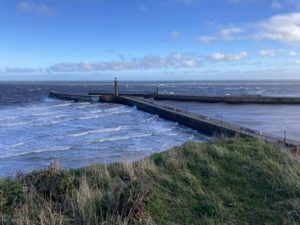 Explore the Harbour
Whitby's harbour is a busy one and sits on the mighty River Esk.
You can see all sorts of fishing boats and the replica of the Endeavour, one of Captain Cook's ships.
Whitby's dramatic piers are also a sight to see.
Almost jaw-like, the piers reach out towards the North Sea and can be walked along in good weather.
Sometimes, and if you're lucky, bottlenose dolphins are spotted from the piers!
Window Shopping
Whitby is festooned with independent shops (and some well know high street stores).
Whether you've got cash to spend or you're watching what you spend, whiling away a pleasant hour or two in the town's historic streets can be very inspiring.
The shopkeepers of Whitby make their retail windows a real treat and visually appealing.
The Whalebone Arch
This iconic landmark is a replica of an original installation and represents Whitby's whaling past.
Of course, whaling is an industry we look back on with a different view point today.
However, this landmark is one of the most famous in the town and offers some great photo opportunities.
The Captain Cook Memorial
Just a few feet from the Whalebone Arch, discover Captain Cook's statue, celebrating the explorer from the 18th century.
This historic figure is connected to Whitby in many ways and also has a museum dedicated to him (museum has an entry fee).
Explore Some Shipwrecks
The Yorkshire Coast is a graveyard for sunken ships and some of them you can reach on foot, providing the tides are in your favour.
Near Saltwick Nab, at low tide, you will see the remains of the Admiral Von Tramp.
Always keep away from the cliffs in case of a landslide and wear the right footwear.
Find out more about Whitby's shipwrecks here.
Visit Mulgrave Castle
A chance to take a step back in time as you walk around the ruins of this historic building. See its ancient walls, its towers and steep steps.
Inspired by these free activities? Why not book your stay with us at the Riviera Guesthouse, Whitby, today!