Welcome to Evie, Our New Puppy!
Welcome, little Evie!
Evie is a bundle of fluff, with coal-black eyes and a waggy tail.
She is now part of 'our gang'.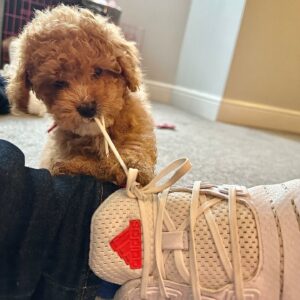 Not Forgetting Nala
If we rewind back to January, Riviera Guesthouse fans will know tragedy struck.
Nala, our incredibly loyal four-legged companion, passed away.
We were devastated.
We blogged about it, and kept everyone up to date on our Facebook and Instagram feeds.
Crossing the Rainbow Bridge
So, Nala crossed the rainbow bridge and her little paws are hopefully warm and safe, wherever she is.
Of course, Nala's passing affected us all, grownups and kids alike.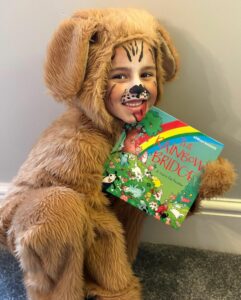 Then, for World Book Day back in March, our daughter dressed us as Nala and we all read 'The Rainbow Bridge' by Adrian Raeside.
The four of us had a lovely little memorial for Nala on the beach where we scattered some of her ashes and chatted about our favourite memories.
We think this helped us accept that Nala had gone.
She hasn't gone from our hearts and memories, though.
Making the Decision
Try as we might, we had a huge pooch-shaped hole in our lives.
The days just weren't the same.
We missed the tail wags and the unconditional love a pet gives you. The house was just too quiet and still.
So, we decided to Get a New Puppy!
Welcome, Evie!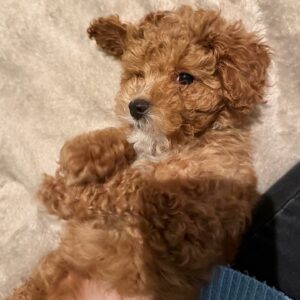 Evie came from the same wonderful breeder Nala did, down in Dorset.
She's the same breed as Nala, a Cavapoo, but will be smaller as her Dad is a Toy Poodle whereas Nala's was a Miniature Poodle.
It's safe to say, from the very start, we're besotted.
Evie fits right in, perfectly matching the gap Nala left in our lives.
Evie is a totally joyful bundle of exciting 'puppiness'!
She starts the day with her waggy tail … What more could you want?
No Longer Newbies
When Nala came into our lives, we were first time puppy parents.
While we fell in love in an instant, there were some practical challenges, shall we say!
People say having a new puppy is like having a new-born human, and in some ways, this is true.
So luckily for Evie, this time we know what to expect and also appreciate that puppyhood goes way beyond the first few weeks of toilet training.
Training Days
For Evie, she has the benefit of our experience when it comes to training days.
We understood that we needed to make her learning journey as fun as possible.
With plenty of rewards and encouragement, she's responding so well and is enjoying learning new things.
Training sessions are kept short and practised regularly throughout the day.
Evie loves a challenge and eats all her food from puzzle feeding toys before zonking out on our laps.
A Bundle of Fun
Fellow puppy owners will understand this completely.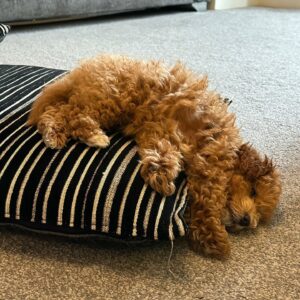 A puppy seems to have boundless energy … until he or she suddenly conks out in deep sleep!
It is so funny, as Evie does just this and catches her dog nap anywhere, at any time.
The Great Outdoors
One of the big steps for any puppy or young dog to take is the one into 'the great outdoors'.
We tried to put ourselves in Evie's 'paws'.
The smells … as a dog's nose is far more sensitive than our human ones, we can only imagine the tantalising and puzzling odours Evie's moist little nose detected.
Then we had to think of her soft little paws and the ground underneath them.
Once it was safe to walk her on a lead, we hit the beach as soon as we could.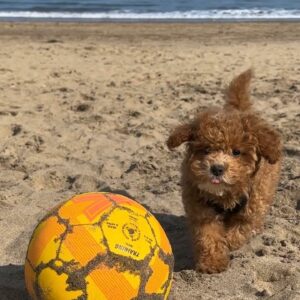 And just like Nala did, she LOVED it!
We think she definitely believes she's bigger than she is as she goes bounding up to play with the bigger dogs.
Finally, her loving eyes, always so expressive, seemed to go as wide as saucers as she took in the world of Whitby!
A Pawsome Thank You
Of course, we can't show our love for Evie without thanking everyone who helped us through our grieving process earlier this year.
You all helped us get through a very difficult time with your wonderful, caring and comforting words.
We feel Nala is now at peace and she will never be forgotten.
The hope is that Nala is looking down with her tail wagging with approval as Evie grows up.
What Next?
If you follow us on Facebook and 'The Gram' you will see we've put out a post or two about Evie.
We will keep you all 'pupdated' as to her antics and journey with us.
Thank you again to everyone for their incredible support and love over the last few months.
Rest In Peace, Nala.
Welcome, Evie!