Walk Around Whitby
Take in Whitby's Landmarks on Foot
Whitby is a small town with a big heart!
It is studded with well-known landmarks, most of which are reachable on foot.
Surrounding the River Esk, Whitby is a town of two halves with iconic structures aplenty.
The East and West Cliffs each have their own list of places to visit.
Whitby Abbey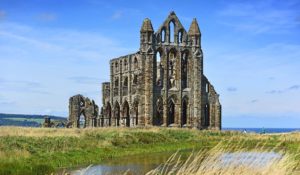 Sitting atop the cliff, the Abbey is one of the town's most iconic landmarks.
With an incredible history, you can find out more here.
Postcode YO22 4JT
Why not book your stay with us here at the Riviera Guesthouse.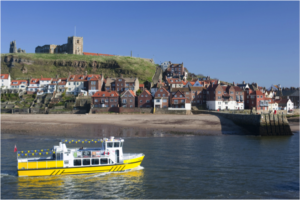 St Mary's Parish Church
Close to the Abbey, this lovely parish church has a huge connection to seafarers and is referred to in Bram Stoker's famous vampire novel, Dracula.
Postcode YO22 4JR
Caedmon Memorial, St Mary's Churchyard
You'll find this at the top of the 199 Steps.
This beautifully carved stone cross is made from hard sandstone from the Black Pasture Quarry in Northumberland.
The 199 Steps
Count them you must as you make your way up these stone steps!
Can you count 198, 199 or 200 …?
Postcode is YO22 4DE
The Dementia Awareness Garden
As well as the popular skyline monuments and stone staircases, there are also some smaller, more 'humble' places to see.
Whitby's Dementia Awareness Garden is close to the foot of the 199 Steps.
You'll find this little haven on the corner of Church Lane and Henrietta Street.
The garden includes a statue of the poet Caedmon, carved in regional sandstone by local sculptor Darren Yeadon.
There are also raised plant beds including different blooms with a mix of textures, colour and fragrances.
This garden also includes flowers with a multitude of meanings, including forget-me-nots and foxgloves.
Postcode is YO22 4DE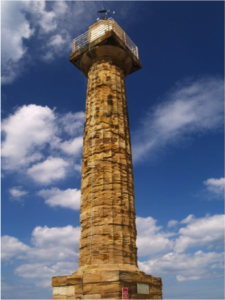 Whitby Lighthouse
With its magnificent views, this is worth the climb to the top.
This stone-built guiding light can be found on the West Pier, sitting proudly on Battery Parade, postcode YO21 3PZ.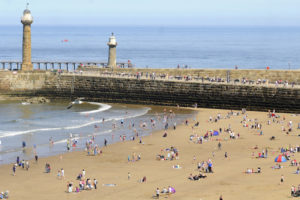 Whitby's Piers
Where do we start with Whitby's arching piers?
How many waves have crashed against them?
The two main piers, name East and West Piers, are both breakwater piers made of sandstone.
Both are Grade II listed.
Their incredible design has stood the test of time as they've been in place since 1854 and 1831 respectively.
Whitby Bandstand
Did you know Whitby has its own brass band?
It was established in 1863.
The bandstand is a proud and well-known landmark near the foot of Khyber Pass.
Postcode is YO21 3PU.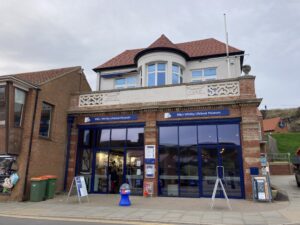 RNLI Whitby Museum
This building once housed the RNLI Lifeboat Station (which is now in a new location).
This museum is a treasure trove of paintings, photographs, models and memorabilia which relate to famous rescues and shipwrecks along the Yorkshire Coast.
Postcode YO21 3PU.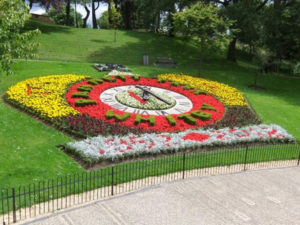 Pannett Park Clock
Installed to mark the Coronation of the late Queen Elizabeth II in 1953, this floral clock is a must.
With different flowers planted every year, there's something new to see on a regular basis.
As we are in another Coronation year, this colourful landmark celebrates its 70th Birthday.
Pannett Park Gardens
These peaceful gardens are a haven to tranquillity in the centre of our town.
Whatever the time of year, there's something stunning to see.
Find both the clock and the gardens in the YO21 1RE postcode area.
Railway Station
Some of our guests are surprised to find this busy railway station exists!
The main line connects the town to Middlesbrough and the North East.
Another branch line takes visitors to the market town of Pickering along the heritage North Yorkshire Moors Railway.
The station has a host of shops and cafes, a car park outside, and a useful map of the area on the platform.
Postcode YO21 1YN
Swing Bridge
Joining the east and west sections of the town, the current Whitby Swing Bridge is a marvel of Edwardian engineering.
Providing pedestrians and vehicles with a means of crossing the River Esk, the red and white bridge often swings open to allow boats through.
Did you know that the main A171 road went over this bridge at one time!
Of course, it would now be totally unfit for purpose given the amount of traffic on the roads.
The large high-level bridge further downriver was opened in 1980, therefore taking away the hoard of cars, lorries and buses which use the A171 route.
In fact, to try and protect this historic bridge, the weight limit was reduced to 7.5 tons in 2011.
And if you visit during the peak season in Spring and Summer, then you won't be able to cross the swing bridge in your car.
Anyone who has seen the thousands of human beings crossing the swing bridge during their visit to Whitby will understand why this decision was taken, and it comes into force this year (2023).
You'll find the bridge at Bridge Street, postcode YO22 4BG.
Polar Bear
This iconic sculpture of this incredible arctic hunter can be found atop a roof in Sandgate, postcode YO22 4DB.
The Whitby Jet Heritage Centre
In Church Lane, Whitby, YO22 4DE.
Discover this ancient and beautiful craft and perhaps buy your own piece of Whitby Jet!
Lewis Carroll Garden
Find this hidden treasure near Cliff Street, Whitby.
This garden celebrates the town's connections to author Lewis Carroll, author of Alice in Wonderland. 
See giant playing cards, a big stopwatch and more!
Postcode YO21 3DD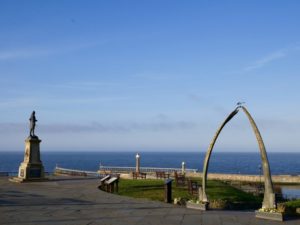 Whale Bone Arch
These large curved 'bones' are in fact a replica of a whale's jaw bone.
The replica replaced the original monument in 1853.
As we know, the jaw bones are a divisive reminder of Whitby's past connection to the whaling industry.
Postcode YO21 3HA.
Captain Cook Memorial
Standing proudly just a few yards from the Riviera Guesthouse, the Captain Cook Memorial is a reminder of the explorer's links to Whitby.
Postcode YO21 3PZ
Bram Stoker Plaque
We've all heard of the world-famous vampire, Dracula, who will forever be connected with Whitby thanks to Victorian author, Bram Stoker.
Stoker spent time in Whitby on holidays and research visits between 1890 and 1896.
He stayed just around the corner from us here at the Riviera Guesthouse at number 6 Royal Crescent and there is a blue plaque to commemorate this fact.
Postcode YO21 3EJ.
Read our fascinating blog about his visits to Whitby here.
The Yards
Passageway … ginnel … yards … whatever the terminology, Whitby is famous for this hidden 'snickle-way', snickets … you get the drift!
Around 80 yards still exist (it is thought around one hundred existed originally).
Therefore, famous  ones are Arguments yard, Loggerheads Yard and Kiln Yard.
Other terms for these historical parts of Whitby include 'ghauts'.
The Yards are often narrow spaces between houses, built to house the fishing families of the town.
Arguments Yard is just off Church Street.
You can also purchase a book called Whitby Yards by Alan Whitworth, available at Whitby Bookshop.
Blue Plaque for William Scoresby
The Scoresbys are a well-known Whitby family.
William Scoresby Senior has a blue plaque at 13 Bagdale.
Born in 1760, he invented the crow's nest in 1807 and was a key figure in the town.
Postcode YO21 1QL
Top Ten Places to Visit in Whitby
We've written a handy blog encouraging our guests to visit the top ten attractions in Whitby.
Heritage Sculpture Trail
Created by Emma Stothard, this sculpture trail reveals much about Whitby's history.
You can read our blog about it here.
What To Do Next
If you've been inspired by this blog, then why not book your stay with us.