Women of Whitby – International Women's Day
As International Women's Day approaches, here at the Riviera Guesthouse we want to celebrate key female figures with connections to Whitby.
From St Hilda to Beth Mead, we are  lucky to have famous females connected with our town.
Wednesday 8th March is 2023's IWD during which we celebrate women around the world as well as those on our doorstep.
Well Known Women
St Hilda of Whitby
Hilda or Hild of Whitby is a Christian saint and the founding abbess of the monastery at Whitby.
It is thought she lived from 614 to 680.
The Whitby monastery later became the place for the Synod of Whitby, which later has strong connections with Easter.
Hilda was only little when her father was poisoned, so she was raised in King Edwin's court.
On Easter Day, 12th April in the year 627, Hilda, who at 13-years-of-age, was baptised along with Edwin's entire court.
This ceremony took place in a small wooden church near the present site of York Minster.
At 33, Hilda became a nun, and lived in Northumbria.
She later became the second Abbess of Hartlepool Abbey.
In 657, she founded Whitby Abbey, known as Streoneshalh, where she remained until her death.
Hilda is now known for her great energy, skills as a teacher and as administrator.
Kings and princes sought her advice, due to her wisdom.
During the last few years of her life, Hilda worked until her death at 66 years, a great age for the time.
In her last year, she set up another monastery at Hackness, a picturesque village near Scarborough.
There is a legend that says when seabirds fly over Whitby Abbey, they dip their wings in honour of Saint Hilda.
Another legend states that Hilda turned a plague of snakes into stone.
This may explain why the coat of arms of St Hilda's College, Oxford, includes a curled snake.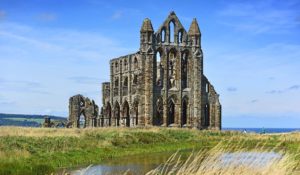 Elizabeth Gaskell
Elizabeth Gaskell is a well-known Victorian novelist, who penned The Life of Charlotte Bronte in 1857, just two years after Charlotte's death in 1855.
Elizabeth wrote some well-known novels, many of which have been made into TV dramas.
These include Cranford, North and South, and Wives and Daughters.
Born in September 1810, she spent much of her childhood in Cheshire.
She married in 1832 and settled in Manchester.
Charlotte Bronte stayed with her and Elizabeth's family several times.
Elizabeth's connection to Whitby begins in 1859 when she travels to the town to research Sylvia's Lovers, published in 1863.
Whitby becomes Monkshaven in the famous novel and she took lodgings at 1 Abbey Terrace on the West Cliff, passing away in November 1865.
Dora Walker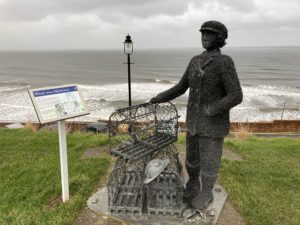 Dora Walker will be a name forever connected with Whitby.
Born in 1890 in Mirfield, Dora joined the Red Cross during the First World War.
During the 1930s, Dora moved to Whitby and later owned a boat called The Good Faith.
This boat was built locally.
She said in her autobiography it was constructed by Frank Clarkson, designed like the big Northumberland cobles.
Dora became Skipper and in time won the respect of her fellow fishermen, being a skilled long-liner and navigator.
Crab, lobster, salmon, trout and tunny were also species she fished for.
This intrepid lady was also involved in the Saltwick Nab rescue in February 1940, assisting with several rescues at sea during the Second World War.
In 1953 she became Honorary Keeper of the Whitby Museum, a post she held until her death in 1980.
Dora has her own statue in the town and a Blue Plaque at No 36, The Cragg.
Beth Mead
Local lass Beth Mead MBE is now a household name thanks to the Women's England Football Team winning Euro 2022.
Beth hails from nearby Hinderwell, born in 1995.
Her interest in playing football started at around six years of age, being the only girl playing for the Hinderwell village team at the time.
Her inclusion in the England Team last year is a career highlight, although her football career is nothing short of remarkable.
She won the WSL Golden Boot in 2015 at just 20 years of age and plays for Women's Super League club Arsenal.
Last year, she broke Jimmy Greaves' record for the most goals scored in a season by an England player.
Other clubs Beth's played for include Sunderland on the North East Coast.
In the 2019 and 2020 season, Beth played for the World Cup team.
Beth is now an MBE, the whole of Whitby and the surrounding area is very proud of her!
Other Women of Whitby 
Countless women of Whitby have contributed to the success and beauty of our beloved hometown.
Dame Laura Knight was a talented painter and was part of the celebrated Staithes Group.
Emma Stothard is a local sculptor who created the Whitby Sculpture Trail.
The trail's memorable statues are created from steel wire, woven by hand around a steel armature then hot-dip galvanised.
Our current Mayor is Elizabeth Roy.
And of course, countless generations of women have worked in Whitby, helping shape local communities, raising families and setting up businesses.
All these women we celebrate and commemorate as we go about our daily lives.
While there is still 'room for improvement', it is also important to acknowledge that women stand on the shoulders of previous generations.
So we show our appreciation of St Hilda, Elizabeth Gaskell, Dora Walker and Beth Mead, and the many women of Whitby.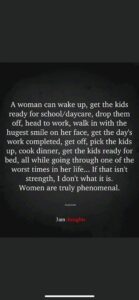 International Women's Day 2023
This year's theme is #EmbraceEquity, challenging gender stereotypes, calling out discrimination and seeking out inclusion.