Our Year of 'Bling'
The Riviera Guesthouse has been fortunate with a number of awards and accolades 'heading our way'!
Our 2022 awards are also thanks to our lovely guests, too.
Without boasting, here's our bashful rundown of our proudest 'bling' moments of 2022.
The Year 2022
How this year has flown!
No sooner did January arrive, then we're starting to get ready this year's festive build-up – unbelievable!
It's been a year of strange 'firsts', a world record and some official 'thumbs up' from the travel industry.
The Hottest Summer …
Well, this maybe isn't official (yet), however who could forget the summer of 2022?
With temperatures touching 40 degrees in Yorkshire for the first time on record, this is a somewhat dubious 'first'.
This had a double 'whammy' effect on tourism.
The two hottest days meant people took it easy and it was quiet on the phones.
Things seemed to slow down as the temperature rose.
Sunny days followed (and a water shortage).
Yet, who needs the Med when you've got sun, sun, sun?
Whitby was chocka, which is just how we like it.
As we are NEVER ones to rest on our laurels, even in the high temperatures, we worked hard to maintain our usual standards and help our guests keep cool.
Good Hotel Awards 2023
The Good Hotel Awards recognise those hard-working teams that make the hospitality industry 'tick', and, according to their own description, these awards also look for room quality, service and value.
We are so delighted and humbled that the Riviera have been awarded the Gold Seal, a real marque of distinction!
This accolade is also based on consistently high customer ratings over a three year period, so this has truly been a team effort during difficult times.
And this award has hit the headlines, too!
Top Ten Per Cent with TripAdvisor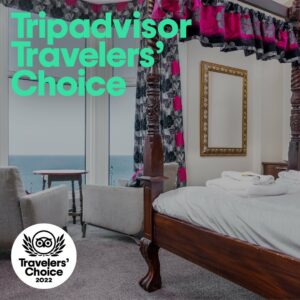 So, you can imagine as the mercury in the thermometer rises, so does guests' expectations.
And NO-ONE was more delighted than us to learn that we rank in the top 10% on TripAdvisor.
We were totally thrilled to receive the TripAdvisor Travelers' Choice Award 2022 gong (please note the American spelling!).
Of course, this is very much down to our fab guests, to whom we are so indebted.
Thank you each and every one of you.
We've quoted one of our recent reviews, scribed by one of our regulars, below.
"This is the third year that we have stayed at the Riviera and the customer service and quality remains the same – which is first class. The staff are always friendly and helpful and Zed and Emma are excellent hosts by being on hand if required whilst respecting their visitors personal space.
"The additional extras are always welcome such as updates about Whitby (my favourite place) on the Facebook/Instagram/Twitter sites and the detailed visitor manual which not only provides all you need to know about the Guesthouse but also six pages of things to do and restaurants to visit so that you're never at a loss of places/things to explore.
"All in all – if you want a place to stay with the most wonderful sea views in a prime position, lovely breakfasts and excellent housekeeping then you can't go wrong by spending a few days/nights at the Riviera.
"Already looking forward to returning in 2023. Thank you, Emma, Zed and staff."
Andy C, August 2022
Travel and Hospitality Awards Europe 2022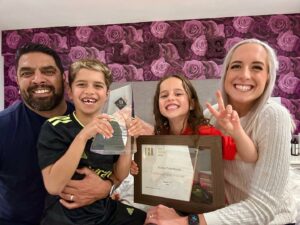 The THA Europe 2022 awards announcement was a nice surprise for the Riviera Team.
The THAs are a global recognition programme for the travel industry.
The THA awards recognise the very best in terms of hotels, tour operators, experience providers, spa and wellness facilities, restaurants and tech innovation companies.
The THAs are given out to the recipients based on the review of customer feedback alongside their own data-gathering.
Those who've been nominated are then put into categories and compared regionally by a panel of expert judges.
We were delighted to get this award and even more proud to see our guesthouse featured in the THA magazine.
Described as a 'sea view guest house', the description states the following (can you feel our blushes!):
"… the Riviera Guesthouse is a quintessential British Bed & Breakfast … family-run, elegant, welcoming … with 15 uniquely designed rooms on offer, a delicious daily breakfast … it does beg the question, why stay anywhere else in Whitby?"
Well, of course, there are many other places to stay in our lovely town.
However, it is nice for our hardworking team to be recognised on such an important level.
Five Star Food Hygiene Rating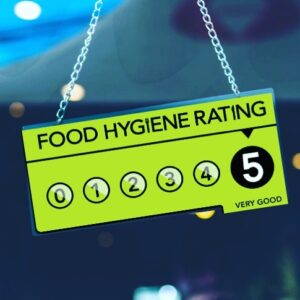 There was a knock at the door … and it was the spot check from Environmental Health.
Always something we expect and we keep our kitchens and dining room in excellent condition.
The spot check visit took place, and thankfully we maintained our 5-star food hygiene rating –  hurrah!
According to the Food Standards Agency, the 5-star rating means standards are very good and covers the following areas:
Handling of food, food storage, food preparation, cleanliness of the facilities and how food safety in managed overall.
It's safe to say we were quite chuffed!
Sinking Our Teeth into a World Record Attempt!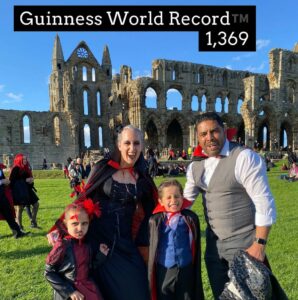 Of course, our town is inextricably linked with Count Dracula and Bram Stoker.
So, when we got wind of the world record attempt at Whitby Abbey for the largest gathering of vampires, we couldn't wait to sink our teeth into the event!
Back on the 26th May, and providing you 'stuck to the rules', people flocked to Whitby Abbey in their vampiric attire so they could be counted.
The event marked 125 years since the publication of Dracula in 1897.
With the help of English Heritage, 1,369 people attended dressed at vampires.
You can read all about the preparation in our special blog, here.
Regional and national TV turned up so it the event provided great PR for Whitby.
Good Morning, Britain!
If you're in the guesthouse trade, you need to be an early, early riser.
Great in the summer when it is lovely and light.
It's a bit more of a task when the mornings are pitch dark!
So, you can imagine our delight when the cameras of ITV's Good Morning, Britain turned up here in Whitby in the early hours of the morning.
Presenter Andi Peters placed himself near the Whalebone Arch, one of the town's landmarks.
He spoke to the London Studio as the sun rose behind the Abbey and he warmed his hands with a drink.
Our children met the famous presenter, so this was a proud moment!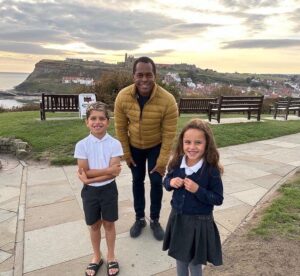 Ringing in the Changes
Of course, 2022 is also a year of great change.
Our late Queen was laid to rest and her son, King Charles III took over the 'reins'.
Read about our royal connections in this special blog.
Social Media
As with many businesses in the 21st Century, we have our social media platforms for the Riviera Guesthouse.
We have some great interaction on Facebook, Instagram and on other channels.
We would like to thank all the guests who take the time and effort to write some amazing feedback comments on here.
Some guests also share some great photos too.
What's Next?
As we head into the final couple of months of 2022, this can be a time of 'taking stock'.
The last ten months or so have been varied and often exciting ones.
We look ahead to 2023 … more than likely there will be the King's Coronation and another Bank Holiday to celebrate this.
It will be a chance for our country to show its pageantry and pomp once again before King Charles settles into his reign.
For the team at the Riviera, our hard work goes on unabated.
We will use the winter time to invest time and effort into looking after our property.
While the daylight fades earlier in the day, we turn the spotlight onto where our heritage property needs some TLC, ready for 2023.
Why not book YOUR break with us already!
Until next time …