Whitby's Famous Photographer – Frank Meadow Sutcliffe
Whitby is such a picturesque town, and photographer Frank Meadow Sutcliffe captured its beauty in his photographic images.
Francis (or Frank) Meadow Sutcliffe was an innovative photographic artist, capturing Whitby and Yorkshire Coast scenes in the 19th Century, some of which have become iconic.
This year, 2023, marks  the 170th anniversary of Frank Meadow Sutcliffe's birth and our blog will help you to discover his incredible images.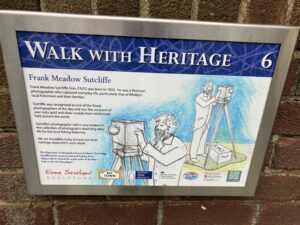 Stay in Whitby
If you're familiar with Frank Meadow Sucliffe's works and have been inspired already, or if you've yet to discover his incredible images, then book your stay with us by clicking here.
Early Days of Photography
Frank was born just 14 years after the birth of photography.
Today his works are shown in international galleries throughout the world.
Early photographs were also known as daguerreotypes.
Famous photographers at the time included Henry Fox Talbot and Julia Margaret Cameron.
Frank had an early interest in photography, most likely inspired by his parents.
Who Was Frank Meadow Sutcliffe?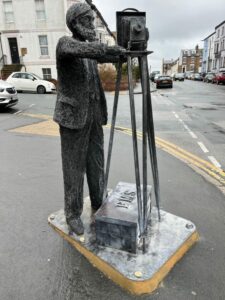 Born in 1853 in Headingley, Leeds, Frank was part of a large family.
Aged just 14 he was sent to work at Tetley's Brewery before his interest in photography took root.
The family moved to Whitby in around 1870.
When his father died, Frank was head of the family aged just 18 years of age.
Frank also worked for Francis Frith, another famous photographer who captured British life in late Victorian times.
Mr Frith employed Frank to photograph parts of the North Riding (now North Yorkshire).
Frank also took images of Brantwood, the home of John Ruskin, overlooking Lake Coniston in what is now the Lake District.
Where Did Frank Meadow Sutcliffe Live?
Frank and his family lived in Bloomfield Terrace before moving to the nearby village of Sleights.
He also lived for a time at Ewe Cote Hall, Ruswarp.
When Was He Given His First Camera?
It is thought he had his first camera in 1869, a heavy mahogany stand camera that required the use of glass plates.
What Is Frank Meadow Sutcliffe Famous For?
During the early part of his career, Frank was a portrait photographer, working for a short time in the Kent area before moving back to Whitby.
He set up a photographic portrait business in his Skinner Street studio in 1894, his previous studio having been much smaller.  This first studio also part of a noisy jet works located in or around Waterloo Yard in Whitby.
Frank became famous for capturing images of Whitby, its buildings and people.
Did He Do Anything Else?
Frank built up a photographic collection of Whitby and its surrounding area which is still popular today.
At the age of 70 years young, he became the curator of Whitby Gallery and Museum.
Frank held this post until his own death in 1941, aged 87.
He's buried at nearby Aislaby.
Frank Meadow Sutcliffe's Legacy
Today, when we use our mobile phone to take photos, we perhaps forget the early days of this type of artwork.
Cumbersome cameras, tripods, heavy lenses, wet plates and other accoutrements meant 'of the moment' snaps were tricky.
Yet Frank was keen to take as natural a photograph as was possible given the technology of the day.
The results are multi-toned images which have both clarity and depth.
While they capture mid to late Victorian and Edwardian society, they also depict Whitby's culture which includes fishing, farming and the community.
His Family
Frank married Eliza Weatherill Duck in 1875 and was father to four children – one son and three daughters.
Were Frank Meadow Sutcliffe's Photographs Controversial?
One image in particular caused a stir.
The Water Rats, which features naked young lads climbing onto a boat, was considered inappropriate by the Church.
However, he later recovered his reputation thanks in part to the then Prince of Wales (later King Edward VII).
The prince had a copy of the image hung in Marlborough House.
The photographic film giant Kodak later sponsored Frank to carry out experimental work with new cameras and materials.
Kodak and Photographic Technology
As photography became more popular, and was the precursor to film, Frank used the new-fangled pocket cameras, made by the Eastman company.
These new inventions gave Frank the ability to be more spontaneous when he was out, clicking away!
Did He Win Awards?
Frank won 62 medals at international exhibitions.
He also wrote a column for the Yorkshire Weekly Post from 1908 to 1930.
Frank was made an Honorary Fellow of the Royal Photographic Society in 1941.
Was Frank Meadow Sutcliffe Famous?
Frank was certainly well known in Whitby and as time went on, his reputation grew.
He was a regular figure in the town, in the harbour and in the surrounding countryside.
There is a sculpture dedicated to him at the John Street/Skinner Street junction, part of the Whitby Heritage Sculpture Trail.
He also set up The Linked Ring, an organisation dedicated to the promotion of photography as fine art in 1892.
Can I See Any of His Works in Whitby? 
In Autumn 2022, Whitby Museum acquired the enhanced Frank Meadow Sutcliffe Collection and its related merchandise.
The museum owns the complete collection of the original Sutcliffe glass plates.
You can purchase prints in shops in the town.
You can see a sculpture dedicated to him on the junction of John Street and Skinner Street.
Where Did He Take Photos?
Frank's photographic collection is vast!
He took photos in the Market Square, the Harbour and on the sands.
Frank captured an era that was changing due to a number of factors: developments in the fishing industry, the expansion of the railways and farming mechanisation.
His photographs will always be of an iconic status.
Behind each image there is a story, a tale to tell.
Book Your Stay With Us at the Riviera Guesthouse
We are taking bookings for 2023 so book your break with us at our independent, family run guest house in the heart of Whitby.
Find Out More About Frank Meadow Sutcliffe.
Here are some links to related articles.
https://www.amateurphotographer.co.uk/iconic-images/frank-meadow-sutcliffe-1853-1941-iconic-photographer-15171
https://www.nyma.org.uk/_webedit/uploaded-files/All%20Files/History%20Tree/27%201941%20Frank%20Meadow%20Sutcliffe%2C%20Photographer.pdf
https://whitbymuseum.org.uk/sutcliffe-photographs-acquisition/
https://www.thoresby.org.uk/content/people/sutcliffe.php