Royalty Along the Yorkshire Coast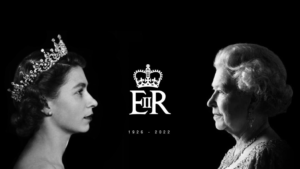 Like many of us, here at the Riviera Guesthouse, we were saddened at the loss of Queen Elizabeth II on 8th September 2022.
This prompted us to think about Whitby and the Yorkshire Coast's many Royal connections and regal visits in the past.
We've also unearthed some more light hearted facts, too!
As we welcome His Majesty King Charles III to the throne, here's our royal rundown of regal facts about Whitby and the North Yorkshire Coast.
How Whitby Played its Part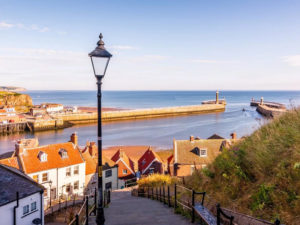 Muffled bells rang for an hour, flags flew at half-mast and Whitby hosted the Proclamation of Accession of King Charles III.
Our town took part in the historic event of welcoming the new monarch following the demise of the Queen who celebrated 70 years on the throne in June 2022.
Did the Queen Visit the Yorkshire Coast?
Our late Queen visited the Yorkshire Coast on several occasions, her most recent to officially open Scarborough's Open Air Theatre in 2010.
This venue, which is about a 40-minute drive from Whitby, had gone to 'rack and ruin' since its heyday which began in the 1930s.
The Queen opened the newly refurbished venue on 20th May 2010 and arrived at the venue by car.
Earlier, in 1975, the Queen visited Scarborough prior to her Silver Jubilee celebrations in 1977.
The former Prince of Wales, now King Charles III, visited Whitby in 1978.
What About Yorkshire As a Whole?
The Queen seems to have really enjoyed the hospitality of Yorkshire!
Those of us who are fortunate to live and work here know each county – North, South, East and West – all have their differences and similarities.
According to the archives, the Queen visited Bradford, Leeds, Doncaster, Harrogate, Hull, Wakefield, York, Selby, Saltaire and Sheffield during her reign.
What About Previous Monarchs?
The wonderful history of the Royal Family can be traced back many centuries.
In fact, Whitby can lay claim to having connections to one of the first English kings, King Oswy.
He ruled Yorkshire and Northumbria in the mid-7thCentury.
Whitby Abbey was founded by this ancient King, hundreds of years ago.
Richard III is reputed to have visited Scarborough.
This is contested by some historians, there is King Richard III House named after the infamous monarch, who had a short, tumultuous reign from 1483 to 1485.
Rolling forward a few centuries, one of the history's liveliest monarchs, King Edward VII, great-great grandfather to King Charles III, visited Scarborough on several occasions.
He visited when he was still the Prince of Wales.
However, one particular visit didn't go too well as in December 1871, following a house party hosted by Lord Londesborough, HRH contracted typhoid.
It was touch and go for a while but he pulled through and ultimately became King Edward VII.
King Edward VIII, who abdicated in December 1936, is also thought to have visited Scarborough on several occasions.
Jetting Around
While Queen Elizabeth was one of the most travelled monarchs in the world, it was a jet set of different kind for the Royal Family in Victorian times.
Queen Victoria, well-known for her lifelong mourning for her husband, Prince Albert, wore Whitby Jet as her adornment rather than sparkling jewels and shimmering tiaras and crowns.
In fact, Queen Victoria did Whitby a bit of a favour when she wore Whitby Jet.
The jet industry thrived in the 19thcentury, supporting around 1,500 workers at one time.
Whitby Jet, the famous black gemstone, is actually fossilised wood of the Monkey Puzzle Tree, crushed and moulded over millions of years.
You can still find Whitby Jet along the Coast's beaches if you know what to look for.
Or you can browse the lovely shops in Whitby that sell stunning jewellery containing the precious black gemstone.
The Queen and the Soap Opera
One thing we learned about Queen Elizabeth II is that she was partial to some soap opera drama!
Back in 2002, the Queen visited the set of ITV Soap 'Emmerdale' during which an explosion took place on set.
Don't worry, as it was a planned one and part of a storyline featuring the blowing up on the soap's fictional Post Office.
Whitby's Famous Elephants
As we looked into facts and fiction about Whitby and its royal history, a curious story about elephants on one of Whitby's beaches caught our eye.
There is a famous photo of elephants beneath the battery in Whitby and anecdotes abounded as why these stunning creatures were on Yorkshire's sands.
The most likely explanation was there was a visiting circus at the time.
However, Maharajah Singh, a regular guest of Queen Victoria and Prince Albert, took a lease at nearby Mulgrave Castle.
Sometimes these gracious animals and the Maharajah have been linked as a result.
However, it's more likely the elephants were part of the circus, mentioned above, although they must have been a magnificent sight.
Other Royal Elements
As with most coastal towns, Whitby has a Royal Hotel, Royal Crescent and a couple of other references to regal-ness.
Captain Cook served in the Royal Navy, and Rev. William Scoresby (1789 to 1857) was a member of the Royal Society of Edinburgh.
He was the son of William Scoresby Senior (1760 to 1829), inventor of the crow's nest and former resident of Whitby.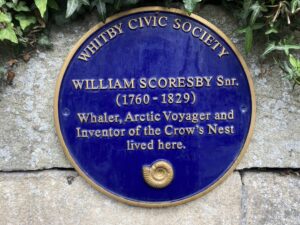 Like other towns, Whitby includes many scarlet post boxes or pillar boxes, to give them their proper name.
You can tell how old each one is by the cipher, or the raised initials that appear on the front of the famous red landmarks.
Each monarch has his or her own cipher, from Queen Victoria onwards.
Some are flamboyant, others are very pared back and they vary a great deal.
We wait to see what King Charles' cipher will look like.
And of course, he will appear on stamps and bank notes in time to come.
Read this fascinating history of letterboxes.
What Happens Next With King Charles III
At the time of writing, our late Queen is lying in state before being finally laid to rest.
Once the period of mourning has elapsed, we wait to hear of the date of the Coronation of King Charles III.
It will be the first Coronation in nearly 70 years, the previous one taking place in 1953.
We are sure the occasion will be full of grandeur, colour and tradition.
And it will probably mean another Bank Holiday to mark the occasion.
What To Do Next
You don't have to wait for a Bank Holiday or similar to enjoy all we have to offer here at the Riviera Guesthouse in Whitby.