Museums on the Yorkshire Coast – Offering the Best Experiences!
Here at the Riviera Guesthouse, our hometown of Whitby has great beaches, walks and independent shops.
But what do you do a rainy day? Visit an indoor attraction of course!
The Yorkshire Coast and Moors boasts some of the best museums around.
Here's our list of the top venues …
Captain Book Memorial Museum , Grape Lane, Whitby
Learn all about Captain Cook's awe-inspiring voyages at this location which overlooks the harbour.
Captain Cook learnt about seamanship here in Whitby before exploring some of the globe's largest oceans, including the Pacific, the South Atlantic and the Arctic.
A true treasure trove of discovery and its unique atmosphere will stay with you long after you've visited. Find out more!
Museum of Whitby Jet, W. Hamond – Church Street, Whitby
Staying in Whitby means you must take a 'jet' trip!
No, not the aeroplane variety, though.
The town and the Coast have long been associated with the dark gemstone, jet.
Whitby Jet has been used in jewellery for many years, and has been favoured by Royal Family.
The Museum of Whitby Jet opened in 2019 and is free to visit.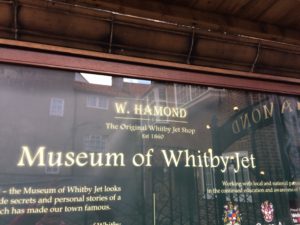 Whitby Museum – Pannett Park
Surrounded by gorgeous gardens, Whitby Museum has been established for over 200 years and houses, among other incredible artefacts, amazing fossils and dinosaur items.
The museum also features a plethora of maritime exhibits that helps explain Whitby's incredible seafaring past.
Read all about fossils and dinosaur hunting along the Yorkshire Coast.
Discover more about Whitby Museum here.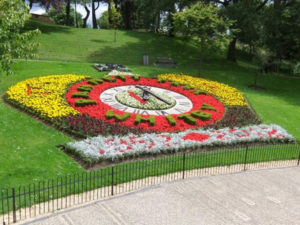 Whitby Lifeboat Museum, Pier Road, Whitby
As with just about any seaside port or town, danger is ever-present in the salty waters from which many people make their living.
When a boat or person gets into difficulties, the coastguard and the RNLI are on hand to help.
Our town's Lifeboat Museum is a timely and often emotional reminder of the dangers faced by its volunteers.
The museum includes paintings, photographs, medal and shipwreck artefacts.
Staithes Heritage Centre, Staithes
Just a few miles up the Coast, Staithes is fishing village that has an amazing story to tell!
The history of this location goes back centuries and the museum is housed in the Grade II listed Methodist Chapel in the High Street.
The village has connections to Captain Cook and has inspired artists for decades. Staithes is an ideal place to 'submerge' yourself in some immersive maritime history.
Robin Hood's Bay Museum, Robin Hood's Bay
One of the must-visit locations on the Yorkshire Coast, Robin Hood's Bay is not only beautiful but it is also great for a good cardio-vascular workout!
Its steep descent/ascent is very famous!
The museum is also an incredible place to visit to learn about the history of this fascinating place.
Smuggling once thrived in Bay, as the village is known, so if you love a tot of rum now and again, then see how this undercover 'pastime' flourished!
Cleveland Ironstone Mining Museum
Located in Skinningrove, Saltburn-by-the-Sea, this museum is dedicated to the skills of the ironstone miners and it is located on the site of an actual ironstone pit.
Well worth a visit into this less well-known aspect of our local history
Scarborough Maritime Heritage Centre, Eastborough, Scarborough
Just seconds from Scarborough's South Bay, Scarborough Maritime Heritage Centre is the town's nod to its amazing maritime past.
The town can trace it roots back to the early mists of time; it was a busy port during the Medieval period and it was bombed during the early days of the First World War.
Run by a team of enthusiastic and knowledgeable volunteers, this is well worth a visit if you're in Scarborough.
The Rotunda Museum, South Bay, Scarborough
A unique building that was one of the first purpose-built museums of its type.
It is dedicated to the field of geology and was built to a design suggested by William Strata Smith, often deemed the father of geology.
This museum has a unique round shape, hence the name and includes fabulous displays.
Scarborough Fair Collection
If you love the fun of the fair, this museum is for you!
It has a unique collection of working vintage fairground rides, mechanical organs and vintage vehicles.
Filey Museum, Queen Street, Filey
This museum has recently celebrated its 50thanniversary and is the town's homage to its seafaring history.
Once two single story cottages with thatched roofs, the building dates from 1696.
Its artefacts include ships in bottles, crafts, fishing tackle and lots more.
Some Inland-Based Attractions
While we love the Coast and all that celebrates it, the rural hinterland to our town is also amazing and has a history that is often in complete contrast to that of the Coast.
The rural landscape of Ryedale, the North York Moors and the Howardian Hills are also celebrated in some award-winning heritage locations.
Ryedale Folk Museum, Hutton-le-Hole
An open-air museum including thatched cottages and craft workshops, celebrating traditional crafts and pastimes of Ryedale.
The museum covers over six acres and also includes the medieval Manor House and Iron Age Roundhouse
Eden Camp Modern History Theme Museum, Malton
This unique museum is housed in the buildings and grounds of an original World War Two prisoner of war camp.
This truly immersive experience will take you back in time to the perilous time of the early to mid 1940s.
Beck Isle Museum, Pickering
Beck Isle Museum of Rural Life is a social history museum in Pickering, which is also the location for the North Yorkshire Moors Railway.
If you've ever wondered about how a chemist, a cobbler or a printer made a living in times past, then this is the place for you.
What to do next …
Whether you're staying with us here at the Riviera Guesthouse or are just planning a day visit, there's so much to do if the weather isn't great or if you just fancy learning about history.
History surrounds us in every building, street and shop.
Every wall, nook and cranny absorb countless moments of people's lives.
Whatever your interest there's something for you.
Ask us for more information, too or why not book your stay with us!