Whitby has some famous people and families that have lived and worked in our beloved home town.
Captain Cook, Bram Stoker, Dora Walker and Mary Linkskill are just four characters connected with the town.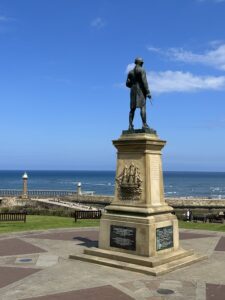 The Scoresby family include two famous captains who made the history books and whose efforts are still felt today.
Both captains were called William Scoresby – Senior and Junior.
And many ships can thank the Scoresby family for their contributions to maritime safety that doubtless helped save many lives.
Also, as we face climate change, we also have one of the Scoresbys to thank for their invaluable research which still useful today, two centuries later.
Scoresby Senior
Captain William Scoresby Senior lived from 1760 to 1829.
He was born at Pickering on a small farm before joining a whaling ship and becoming captain in 1791.
He was a successful whaler (when whaling was very important to Whitby) before the industry faded out.
William Senior became a renowned Arctic explorer, reaching the farthest north with his son in 1806.
Exploring the cold northern reaches of the planet is like going to the moon today: the area was largely undiscovered and mysterious.
William Senior also invented the barrel crow's nest, which allowed sailors to see far ahead toward the horizon, in 1807, which doubtless helped save many lives at sea over the decades.
His son, Reverence William Scoresby Junior (1789 to 1857) was born into this wealthy family, whose fortune was made thanks to his father's successes in the whaling trade.
William Junior was aged just 11 years when he made his first sea trip with his father.
William Junior became well versed in meteorology and polar natural history.
He married at the age of 22, and in the same year became captain of his father's ship, the Resolution (not to be confused with Captain Cook's vessel of the same name).
Climate Change?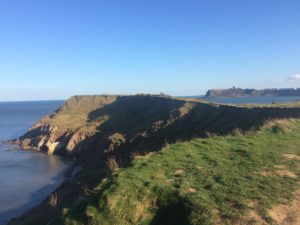 William Junior made some interesting discoveries about the polar regions of the north.
He discovered that the sea was warmer at lower depths during one of his voyages.
His meticulous recording and log books are now invaluable, as they provide comparative data for modern-day climatologists.
William Junior's sketches of Svalbard/Spitsbergen ice maps are also compared to modern satellite images, showing how ice sheets are shrinking.
In 1822, he mapped out a large part of the east coast of Greenland, a vast area which advanced the geographical knowledge of country.
William Junior was elected a fellow of the Royal Society in 1824.
He doubtless met many famous scientists of his day including Sir Michael Faraday, Sir Joseph Banks and many more.
Compass Readings
William Junior helped scientists to understand how iron affected readings of the ship's compass.
William Junior's fascination with magnetism helped improve the accuracy of this important instrument.
Back in the days of sail, many a ship was lost due to faulty compass readings, which could be inaccurate due to metal in the ship itself, or due to a cargo that contained iron, for example.
And as sailors neared the North Pole and the North Magnetic Pole, compasses became even less reliable.
He experimented with steel needles to see how they reacted to iron.
It is difficult to understand today how important an accurate reading by compass was, as we rely on satellite navigation. That said, if the tech fails, then being able to use a compass comes in very handy!
Snowflake Study
It is a well-known and somewhat mind-blowing fact that no two snowflakes are ever the same, and each one is unique.
William Junior made a study of snowflakes, making painstaking drawings of their many varied shapes.
You can imagine how cold this task must have been!
Plankton
Did you know that William Junior was the first to see plankton in the Arctic and make a connection to its importance.
He worked out that that yellow edges of the sea certain areas of the Arctic were due to tiny creatures, which he observed with the help of a microscope.
William Junior called them animalcules, today we call them plankton, an essential element of ocean life.
His Family Life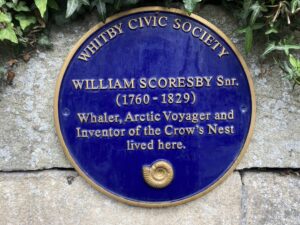 William Junior became a Reverend following the death of first his wife, although he still pursued his scientific endeavours.
He went on to marry three times he was also a man that had a social conscience, founding several church schools for factory children.
He became a vicar in Bradford in 1839 to 1846 and would no doubt have either heard or met another famous vicar, Reverend Patrick Bronte, of Haworth, father of the Bronte siblings.
William Junior was also very well-travelled. As well as visiting the Arctic regions, he also sailed to America in 1844 and 1848.
On his return visit for his second trip, he became fascinated by the Atlantic waves and their incredible size. He made observations about them in his research and published an important article in 1850.
In 1856 he sailed to Australia aboard the Royal Charter.
His books and instruments can be seen today at Whitby Museum and they are well worth a look.
William Junior passed away in March 1857 in Torquay.
Fascinating Facts
William Junior published several papers and published An Account of the Arctic Regions with a History and Description of the Northern Whale Fishery in 1820.
His work revealed all sort of facts about whales including that a Bowhead whale could live 200 years! In fact, a young whale that William Junior encountered could still be alive today …
Sadly, the Bowhead whale, which was hunted almost to extinction, is still endangered.
The 1997 film Captain Jack, partly filmed in Whitby, featured Bob Hoskin playing the titular role, was inspired in part by William Seniors endeavours.
Discover other films made in or near Whitby here.
Franklin's Expedition
A tale that captured the hearts of many people at the time was the disappearance of the Franklin's Expedition in 1845.
Erebus and Terror set off in search of the North West Passage, a route that would connect the Pacific and Atlantic Oceans, shortening the voyage times between Asia and America.
At the time it was ice bound most of the year … as our climate warms this might not be the case going forward.
Sir John Franklin took his two ships to search for this route, never to be seen again.
William Junior encouraged Lady Franklin to urge ships to seek out her lost husband.
A search expedition did set sail in 1859, two years after William Junior's death.
This fated expedition also has a local link, with Thomas Blanky being part of the crew.
You can find out more about him here.
Moby Dick
One of the world's most famous novel, Moby Dick by Herman Melville, references William Junior's work: Ishmael quotes Scoresby in the cetology chapter of the vast tome: "' No branch of zoology is so much involved as that which is entitled Cetology,' says Captain Scoresby, AD 1820."
Philip Pullman
If you've read His Dark Materials, there is a character called Lee Scoresby, an old Arctic hand and balloonist aeronaut, penned by Sir Philip Pullman.
Ship Named After Them
The William Scoresby was launched in 1926 built by the famous Cook, Welton and Gemmell Ltd shipbuilders based between Hull and Beverley.
She was an oceanic research vessel and was later stationed in the Falkland Island from June 1940.
During 1943 to 1946, the ship helped with Operation Tabarin, during which permanent British bases were established at Deception Island, Port Lockroy and Hope Bay.
She had a top speed of 12 knots and sold off in 1954 and was broken up in Sutton Harbour, Plymouth.
Where Did the Scoresbys Live in Whitby?
There is a blue plaque at 13 Bagdale, marking the house where William Senior lived.
What to do next.
If you've been inspired by this intrepid family, then join us here at the Riviera Guesthouse. You can see where the family lived, marvel at the museum exhibits and absorb the atmosphere of Whitby.
Book your stay at the Riviera Guesthouse here.