Whitby Steampunk Weekend XIV takes place on Friday 21st,  Saturday 22nd and Sunday 23rd July 2023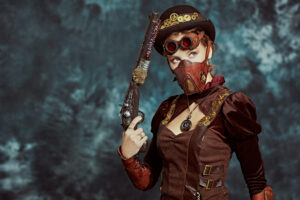 This popular event takes place mainly at the Whitby Pavilion, just a few yards from our guesthouse.
With 70 trade stands, 2 halls, presentations, workshops, musical interludes, live entertainment and a photography studio, it's going to be a fantastic weekend!
The Steampunk Weekend is a feast for the eyes, and all the other senses too!
When the weekends take place, our town is host to some of the most amazing outfits you can imagine.
And as one of the largest events in the UK, the event including free daytime entry and dogs are permitted (pooch steampunk attire is optional!).
Check out our What's On Guide too, for other events in 2023.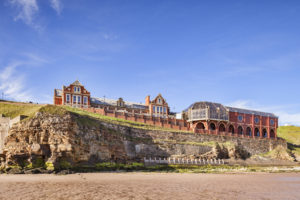 Events at the Whitby Pavilion
This year's July event includes the Great Gatsby Gala Speakeasy Ball, Mr B the Gentleman Rhymer, Frenchy and the Punk and more.
The Speakeasy Ball will take place at the Royal Hotel, West Cliff, Whitby just a short walk from us here at the Riviera Guesthouse.
Details here: https://www.wswofficial.com/events
Will Whitby Be Busy?
There's no doubt that steampunk events have a huge following.
The weekend in Whitby held its first event in 2017 and is now one of the most popular in the UK since then.
The event is very much worth seeing, even if you're not really familiar with the idea or the concept.
However, you'll be amazed just how many times you've seen things inspired by steampunk …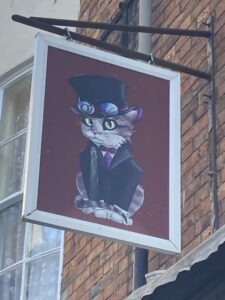 What Is Steampunk?
Steampunk is a term that covers art, film, clothing, music and more.
Sometimes referred to as retro-futuristic and a subculture, steampunk combines science fiction and fantasy.
The genre is inspired by 19th century industrial steam-powered machinery and many other aspects in this aesthetically appealing genre.
Steampunk comes in many forms and shapes, drawing some of its inspiration from the Arts and Crafts Movement.
In addition, steampunk often combines the technology of mid to late 1800s with elements of science fiction, and features steam technology, such as the steam engine.
The genre is also inspired by the Industrial Revolution, yet also imagines a world that didn't develop beyond steam technology.
Many researchers state that steampunk's origin can be traced back to the mid-1980s, when cyberpunk emerged in certain writers' works.
Steampunk in Literature
HG Wells (The Time Machine) and Jules Verne (Around the World in 80 Days) are two authors that are linked with steampunk.
Other works of fiction which can be linked to steampunk include Sir Arthur Conan Doyle's Sherlock Holmes mysteries.
Researchers say classics such as Frankenstein by Mary Shelley, written in before the Victorian era, is also an inspiration.
Jane Eyre by Charlotte Bronte and even Dracula, penned by Bram Stoker (and which has several connections to Whitby) are too.
Oscar Wilde's Picture of Dorian Gray is another work of fiction that is said to influence steampunk.
William Butler Yeats, the poet, wrote The Steam Man in 1852, an early example of steampunk combining clockwork with human-like features.
In 1983, James Morrow published Well Past Midnight: A Novel About Steampunk Science Fiction, introducing the idea of combining steam-powered technology with modern tech.
Steampunk in Art
Wood, brass, and iron are three materials which feature in steampunk. Other elements include copper, steel and glass.
Other items used in artwork include clocks, cogs, wheels, airships, steam engines and more.
Once you spot these items then steampunk is easy to spot and has a style all of its own.
Steampunk in Film & TV
At first you might struggle to come up with examples … yet, think Wild, Wild West (1999); 20,000 Leagues Under the Sea (1954, Disney), and the film version of The Time Machine (1960).
Consider the various versions of Frankenstein; Baron Munchausen (1962); Lemony Snicket's A Series of Unfortunate Events (2004); The Imaginarium of Doctor Parnassus (2009) and Brazil (1985).
These famous films contain steampunk elements.
The TV series Penny Dreadful and the popular, long-running saga of Doctor Who also feature steampunk elements.
Earlier classics such at Metropolis (1927) also features steampunk imagery.
A number of video games are also based or inspired by steampunk, such as BioShock.
Steampunk in Fashion
Incredible top hats, fantastical goggles, sumptuous corsets, bodices, elaborate jackets, feathers, lace, velvets, silks, leathers … attire that includes amazing detailing.
Think also of elaborate pocket watches and chains, neat waistcoats and more.
Jewellery and make-up feature heavily in steampunk with an exaggerated palate of colours and contours.
Whitby Steampunk Weekend XV
This will take place in February 2024 … you've been warned!
Book your steampunk stay with us now!
Sources of information
https://wonderopolis.org/wonder/what-is-steampunk
https://steampunkavenue.com/en/blog/what-is-steampunk/
https://intrans.iastate.edu/news/steampunk-transportation-the-victorian-era-and-the-steampunk-craze/
https://blogs.uoregon.edu/hadsellsteampunk/what-is-steampunk/
https://filmlifestyle.com/what-is-steampunk/
https://emptyeasel.com/2013/05/31/the-world-of-steampunk-art/