Whitby Goth Weekend April 2022
The first Whitby Goth Weekend of 2022 takes  place Friday 22nd, Saturday 23rd and Sunday 24th April.
This follows the event in October 2021. This was first Whitby Goth Weekend (WGW) to be held as the pandemic restrictions eased.
The April 2022 event promises to be a spooktacular one! Here's our guide to getting the most out of the WGW experience.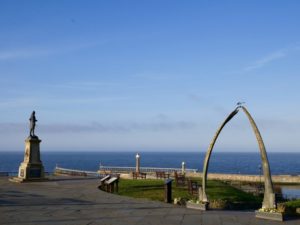 When Did WGW Start?
The event was founded in 1994 by Jo Hampshire and is known as one of the world's premier Goth events.
Today, nearly 30 years later, our home town is transformed for two weekends a year (the other being held on Friday 28th, Saturday 29th and Sunday 30th October 2022).
Amazing costumes, live acts and incredible market stalls form part of this hugely popular event.
What Gothic Connections Does Whitby Have?
Aside from many ghosts and ghouls having connections with the town, Whitby is also famous for its links to Count Dracula, the famous vampiric character penned by Bram Stoker.
Of course, our town is known for its impressive Whitby Abbey skyline, and its huddled streets and cobbled paths retain a timeless sense of history.
The 199 Steps is a must do, as is a visit to St Mary's Church.
Our blog on the top ten things to do in Whitby will give you some inspiration.
Is Whitby Goth Weekend Busy?
If you are a seasoned visitor or a first timer, one thing to remember about WGW is that it's busy. And that's an understatement!
If you are absorbing the atmosphere and enjoying the immersive experience, then remember to put on some comfy footwear. You'll be on your feet most of the day.
Many of the town's businesses also get in the Gothic mood however if you don't like crowds, then it might be wise to visit us another time.
There is plenty going on this year and you can read our 2022 Events blog and also see our  Events Calendar
What About the Retailers?
Many shops take part in WGW and in fact some are dedicated to Goth culture. These include The Great Goth in Silver Street; Pandemonium in Golden Lion Bank; and The Owl and the Pussycat in Church Street.
Lots of other shops sell Goth gifts, keepsakes and clothing.
And Whitby is famous for its jet, the precious black gemstone that can be found along the Yorkshire Coast.
Find out more here about Whitby Jet.
What Entertainment Is There?
Live entertainment will take place during WGW and the list will be finalised soon.
Their official website is here. 
There is also the Bizarre Bazaar Alternative Market trading at specific times during the event. This market offers an incredible A-Z of stallholders trading their wares.
Is WGW Suitable for Dogs and Kids?
While dogs are welcome, it's maybe best to attend either early in the day or from late afternoon as the streets get packed.
Pooches tend to find it a bit much as they are surrounded by a sea of legs.
WGW states it is a family friendly event, too.
What About Places to Eat?
Whitby is festooned with foodie places and the best advice we can give is … be patient!
We have a list of places to dine out which you can see here.
If you can, it might be worth booking a table well in advance …
Does Any Fundraising Take Place?
WGW also has a big heart as it raises coffers for some very worthy causes, which have included the Bat Conservation Trust, the local branch of Mind and the Sophie Lancaster Foundation.
What About Other Gothic Events?
For 2022, after two years of disruption due to the Covid-19 Pandemic, the live events calendar is a busy one!
Spookily, on May 26th 2022, the 125th anniversary of the publication of Bram Stoker's Dracula will take place and our town will be the epicentre of this milestone.
Details of this event are yet to be finalised but we'll keep our guests up to date.
Stoker stayed in Whitby and we've written a blog dedicated to the famous author, who stayed just round the corner from the Riviera Guesthouse.
You can read the Dracula blog here.
In short, Stoker stayed in Whitby in summer 1890 and discovered historical texts and events which contributed to the 1897 book, now the world-famous novel.
Is the Riviera Guesthouse Close to the Action?
The Riviera is just a few minutes' walk from the famous landmarks of the Cook monument and the Whalebone Arch. Parking is close by and the golden sands of our local beaches are not far away at all.
What To Do Next?
If we've whetted your appetite, then why not get in touch?