The Riviera Guesthouse and Christmas Events in Whitby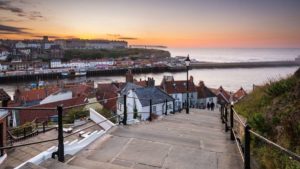 Whitby is a magical place to be during the run up to Christmas!
Festive preparations are always hectic, so why enjoy the chaos while staying on the Yorkshire Coast?
Whitby is perched on the coastline of North Yorkshire, and is a great place to visit for some Xmas shopping.
There are also lots of November and December events to get you in the Christmas mood.
Time to Think
Wintertime is also a time of year when we get a chance to pause, reflect and plan.
Another year nears its end and the festive period means we might be able to relax over a nice meal and revisit our achievements.
Whitby Christmas Market and Festival
18th, 19th and 20th November 2022
Front Marina Car Park, Whitby
10am to 8pm
A once-a-year chance to taste and buy the best local and regional food, purchase that unusual, bespoke gift and absorb the unique Whitby atmosphere.
Free entry too!
Dippy Christmas Craft Fair
26th and 27th November 2022
Whitby Pavilion
Whitby Krampus Run
3rd December 2022
Starting at the Chapel on the Hill, Brunswick Street, Whitby
Robin Hood's Bay Victorian Weekend
2nd, 3rd and 4th December 2022
Victorian Themed weekend with a festive feel in this stunning fishing village.
Whitby's Pantomime
Beauty and the Beast: the Pantomime
9th and 10th December 2022
Whitby Pavilion
Magic Mike: Christmas Show
22nd December 2022
Whitby Pavilion
Boxing Day Dip at Whitby
26th December. Details to be confirmed.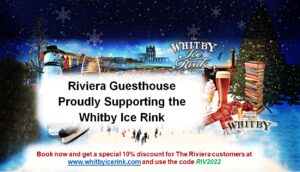 Ice Rink in Whitby
Open from 2nd December to 2nd January 2023.
We are very proud to support Whitby Ice Rink and if you're a Riviera customer and book your ice rink tickets, there is a 10% discount available.
Christmas Traditions at the Riviera Guesthouse
Christmas for the Riviera Guesthouse team is a very special time of year.
As our kids get older, the festive period is still a fun one and a time to enjoy being together.
We still look forward to decorating the tree, preparing the Christmas feast and writing those 'wish lists' to Santa.
We don't know about you, dear reader, but we enjoy putting out the Christmas baubles, some of which we've had for years and years.
We enjoy shopping around for favourite types of festive crackers for our Christmas dinner table, cheesy jokes and all!
Living on the Yorkshire Coast also means we get to see the most stunning winter sunrises!
The Winter Solstice, which usually falls on either the 21st or 22nd December, just precedes Christmas Day, and the cold brisk winter weather accompanies the sun which rises at around 8.30am and sets again at 3.45pm or thereabouts.
The daylight hours are short so we love to see the sun rise slowly over the North Sea.

A Time for Reflection
We often take stock in December, particularly as the New Year approaches.
What goals have we achieved in the last 12 months?
What memories have we made?
It's been a mixed year for British culture with the Platinum Jubilee followed a few months later by the passing of Queen Elizabeth II.
We had the hottest temperatures ever during the summer.
The Commonwealth Games Baton visited Whitby.
TV legend Andi Peters came to Whitby, and our children managed to meet him.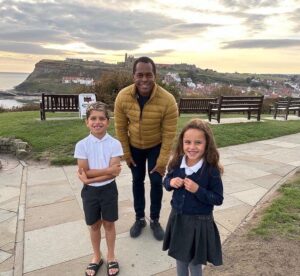 And we took part in a successful World Record bid at Whitby Abbey! 
Yet there were smaller, no less significant moments which we will remember and we shared on our socials.
We are so blessed when the dolphins and porpoises visit our shores.
Playful, intelligent and graceful, we never fail to feel that sense of honour when they appear.
We met some amazing people including Chris the Coast Walker back in February, who was raising funds for Children in Need as he rambles, climbed and powerwalked his way around mainland coast Britain (11,000 miles no less!).
We are very proud of our awards  which our whole team have helped to obtain.
The Smaller Things
2022 has also been a year of little jobs that gave us a big sense of achievement.
If you've visited us before, you'll know we are so blessed with our guesthouse building.
Elegant and with many period features, the Riviera is part of Whitby's history.
Guesthouse work includes all the indoor tasks, such as cleaning, laundry, cooking our fabulous breakfasts (even though we say so ourselves).
It also includes ensuring the outside looks appealing and in excellent condition.
This can be quite a task given …
The height of the building
The age of the building
The sea air!
Living by the sea is a dream come true, but the salty, sandy conditions mean exterior decoration can look lacklustre, even though we keep on top of most tasks.
One job we had to do this year was give our exterior railings some TLC.
If anyone has done this task, then you'll know this is a DIY mountain – and then some!
Hours and hours of sanding down, followed by painting, painting … our staff did a fabulous job with this rather longwinded operation!
We described this on our Facebook page, too!
Blogging …
Regular readers of our blogs, or newbies, will know that our blogs are our secret weapons!
Our blogs are carefully thought out and written so that we hope we provide relevant, useful information for our guests and visitors.
We never 'throw them together' and we put a lot of thought into them.
So, when we had a brainwave about a parking blog, you'd be forgiven for thinking, nothing could be more boring …
One of our most popular blogs this year has been our parking blog.
Visitors to Whitby (and those of us lucky enough to live here) all know how complex and sometimes frustrating the town's parking arrangements can be.
As we came into the summer season, we decided to demystify the parking in Whitby and we had some fantastic feedback as a result.
It is one of our 'go to' blogs if you are thinking of booking with us, as we update it regularly.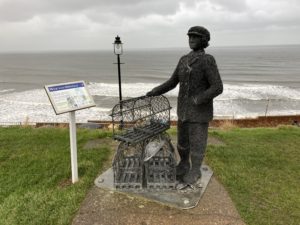 Creativity …
It's no secret that the Yorkshire Coast has inspired artists for many centuries.
Read about the Staithes Group of Artists here
We support many local businesses and companies and that includes artists.
We were thrilled to bits when artist Dean Miller Bell created a stunning piece of artwork featuring the Riviera.
Events …
Whitby is host to some amazing annual events each year, including the Goth Weekends, the Regatta, Fish and Ships Festival, plus lots of live entertainment at the Whitby Pavilion.
Our regular blog keeps our guests up to date and we update our What's On webpage on a weekly basis.
What's in store for 2023?
First of all, we can't quite get our head around the fact we are writing '2023' in the first place!
The first two years of the new decade were troubled ones as the Covid-19 Pandemic swept the globe and we had several Lockdowns, endured social distancing and  created various 'bubbles'.
While the virus is still with us, we are hoping as time goes on, we can live our lives once more, without forgetting those who helped us and those we lost during the pandemic, of course.
Living by the sea means you get a true sense of each season and the joy it brings.
For the Winter, we love the festive lights, the rough seas, the frosty mornings.
When Spring starts to make its shy appearance, we watch out for the first snowdrops, the daffodils and the warmer days.
Summer is usually a blur and Autumn brings with it a new school year, colourful leaves and a chance for us to breathe again!
And meanwhile, Whitby's year also rotates with a steady rhythm of traditions and entertainment.
We are taking bookings for Whitby Regatta in August, and the Goth Weekends are usually a sell-out (February and October).
These events attract the crowds so if you prefer less busy times, don't forget we are open during the 'quieter' times!
There's nothing more rewarding than joining us in March when the days are getting lighter, the lambs start to appear, and businesses that have taken a well-earned rest in the winter begin to open again.
Lots of painting, repair work and cleaning takes place once Easter is on the horizon and businesses start to prepare for the busy summer ahead.
Easter is in early April (Good Friday is on 7th April 2023) and usually marks the beginning of the hospitality season.
Yet Whitby is now a year-found resort any many businesses stay open throughout the year.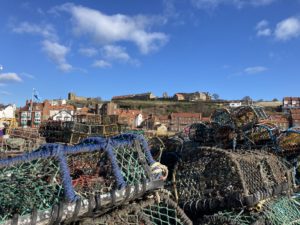 What Are We Doing for Christmas and New Year?
Here at the Kahn family HQ, which also happens to be our place of business, we take some quality time out at this time of year.
It's not just about waiting for Santa to pop down the chimney, though!
We have a look back at the year we've just had.
It is a time to give thanks for all the positive things that have occurred.
Also, we look at where we can improve things, or where something new can take place.
This is the time of year we get chance to see friends and family, too.
Running a guesthouse is a dream job, and while it goes with the territory, it can be a 24-7 role, particularly in the summer.
And it is a time of year when we start to plan for the following 12-months.
Our boutique bedrooms are always cared for at the highest level, yet now is the time we can see if anything needs replacing or updating.
The stairwells, hallway, dining room and guest lounge are also given a very close inspection as these tend to get lots of wear and tear.
Of course, our amazing team also need some R&R!
In this digital world, when VR and AR now part of our lives, you really can't beat a welcoming, warm-hearted human being giving you a place to relax and unwind for a few days.
Our humans also need to have a bit of a rest so they are refreshed and ready to go for the next season.
What To Do Next …
If you are Riviera Regular or haven't stayed with us before, then we would love you to stay with us.
From solo visits to couples' retreats to a family break, the Riviera Guesthouse has a big heart and we are so lucky to do with we do.
We wish all our guests and readers of this blog, all our friends, family and colleagues, and all our local business a Very Merry Christmas, and a Happy, Healthy New Year!