Whitby's Music Scene – Our Guide in 2023
Whitby in North Yorkshire is a hub for live music.
Our home town of Whitby is well known for its lively and varied music scene.
From regular themed events at Whitby Pavilion  to pubs with live music, there's something for everyone!
Whitby Pavilion is just a few strides away from the Riviera.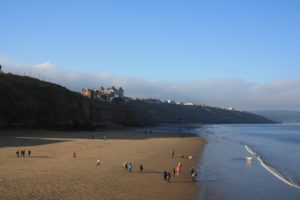 We regularly update our What's On Page, too!
Music events at the Whitby Pavilion that are coming up include Supersonic Queen, Very Santana, Maet Live, The Whitby 60s Festival, The Ragdolls, Elvis Presley and more.
Not forgetting the eponymous Whitby Soul Weekender, Whitby Steampunk Weekend in July, and the Soul & Motown Weekender.
Later in the year, Musicport Festival will take place at this iconic building with views over the sea.
And for anyone who loves 80s music, then Calling Planet Earth in December will be perfect for you.
Additional Events
While Whitby Pavilion hosts numerous events, there are multiple venues across the town that hosts some fine musicians.
Whitby Ahoy in 2023 takes place in late July, featuring the talents of Fiddlers Elbow, Richard Grainger and  other artists, singing songs and sea shanties at Whitby's picturesque bandstand.
Whitby Folk Week is probably one of the best known of musical events and this year takes place on 19th to 25thAugust.
This year's event will feature Marske Fishermen's Choir who will no doubt be singing a shanty or two.
Live Music in the Pubs
Whitby is festooned with pubs so you can enjoy a pint or two while enjoying the talents of local musicians.
And if you love live music, then you won't be disappointed.
The Granby pub is close to the harbour, offering open mic nights.
The Station Pub in New Quay Road, Whitby has regular live music nights.
The Little Angel is a traditional pub in Flowergate is popular, including their karaoke nights!
The Elsinore pub, also in Flowergate, includes music nights, as does the Endeavour pub in Church Street.
Abbey Wharf is at the bottom of the iconic 199 steps offering resident DJs and more.
Whitby Brewery is next to the Abbey and hosts live music acts.
Musical History Along the Yorkshire Coast
You can't mention music and seaside in the same sentence without thinking of sea shanties.
Sometimes called a chantey or chanty, a sea shanty often causes the hairs on the back of your neck to rise when you hear them.
Songs were no doubt sung to help with the arduous work undertaken by sailors, work that was often fraught with danger.
Thinking of those rolling waves, howling gales and cramped conditions ensures we understand that a sense of comradeship, expressed in musical for, pervailed.
However, did you know there are different types of shanty?
A long haul or halyard shanty was used in the times of sailing ships, when the topsails needed raising.
Short draft or sheet shanties were forcefully sung, while capstan shanties are more smooth sounding, a famous one being 'Drunken Sailor'.
Other shanties include pumping, fo'c'sle and joyful ones.
Staithes has a fishermen's choir, as does Filey further down the coast.
Their repertoire will no doubt include a selection of shanties, sung in close harmony and harking back to the days of sailing vessels.
Village Sounds
As with many places, including our beautiful county, villages tend to also have a very active music scene.
The North York Moors National Park is dotted with communities that each have a rich musical heritage.
From moorland places to fishing ports, there is a wide variety of musical sounds.
Hymns For Sea Sunday
While not everyone is religious, there is something incredibly moving about nautical hymns.
Sea Sunday takes place on the 2nd Sunday in July each year.
Hymns related to this liturgical event include 'Eternal Father Strong to Save', which anyone whose served in the Navy will know.
Music Events on the Yorkshire Coast
Robin Hood's Bay has a good reputation for a good music scene, and hosts its own Robin Hood's Bay Folk Club.
Edge down the Yorkshire Coast a bit more and Scarborough is host to the Open Air Theatre.
The theatre, which was opened by the late Queen in 2010, is one of the largest open air theatres in the country.
The venue attracts big names such as Kylie Minogue, Olly Murs, Pete Tong, and more.
Other locations that have musical offerings include the Spa in Scarborough, the Stephen Joseph Theatre and the YMCA.
What If I Want Some Peace and Quiet?
Of course, you may just want to have a peaceful stay here in Whitby.
We ask all guests to respect our low noise policy, and there are plenty of quiet spots dotted around the town.
You might just want to listen to the sounds of nature, which have their own musicality.
From the dawn chorus to the sound of the seagulls, you can enjoy nature's own soundtrack.
Nothing beats the crash of the waves and the sound of the wind here in Whitby.
What To Do Next
Whether you want to dance the night away or prefer a quiet drink in a pub, then book your stay with us here at the Riviera Guesthouse.