Riviera Guesthouse's Guide to Whitby's Summer 2022 Events
School's Out, the Fun Begins!
The summer holidays are just around the corner, so it is time to think about your staycation!
As hectic school schedule finishes for a while, let the fun begin!
This summer is packed with great activities and events here in Whitby on the North Yorkshire Coast.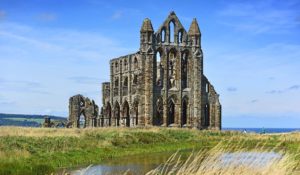 Whitby Abbey
This English Heritage site is host to Dracula at Whitby Abbey from 23rd July to 21st August.
Showings take place at 11am, 1pm and 3pm.
Events in Whitby Then on 27th, 28th and 29th August, face the marauding Vikings as they continue their wave of terror along our coast!
Explore their encampment, witness combat displays, hear tales of daring dos and learn about their weapons and skills.
Booking very much advised. Find out more here.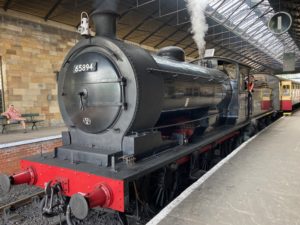 North Yorkshire Moors Railway
As wells the steam locomotives puffing away along the clackety tracks, this year's summer event is 'Love Your Railway' starting 26th July through to 5th September.
Each week has a different theme highlighting the many ways the North Yorkshire Moors Railway can benefit the community, including:
#Heritage – week commencing 26th July
#Education – week commencing 2nd August
#Volunteers – week commencing 9th August
#Family – week commencing 16th August
#Sustainability – week commending 23rd August
#Future – week commencing 30th August
This heritage railway has stations in Whitby, Grosmont, Goathland, Newtondale Halt, Levisham, and Pickering.
The steam engines follow this linear route through the stunning countryside of the North York Moors National Park.
Steam engine enthusiasts will enjoy the North Yorkshire Moors Steam Gala, 22nd to 25th September on this beautiful heritage railway route.
Join in this celebrated railway event by booking your tickets in advance to avoid disappointment.
As well as the NYMR fleet, the gala also includes guest locomotives and there's also a Beer Festival, stalls and live music.
Also September is usually a good time for some decent late summer weather!
Agricultural Shows
These are always a family favourite and the ones nearest to us here at the Riviera include:
Egton Bridge Gooseberry Show – 2nd August
Danby Show – 10th August
Egton Horse and Agricultural Show – 24th August
The region's agricultural shows are an important element of the rural calendar. These countryside-inspired events include livestock, locally produced food, crafts, machinery and lots, lots more.
Whitby Pavilion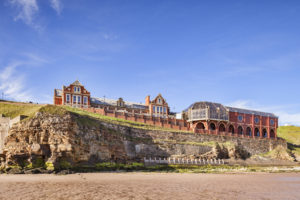 This events venue is just five minutes' walk from us!
As well as their Summer Circus Party on 7th August, they also show the latest films and live shows.
Other events include Whitby Soul Weekender (1st to 3rd July) which we understand has now sold out.
The Whitby Steampunk Weekend takes place 22nd, 23rd and 24th July
Whitby is famous for its eclectic events and one of them is the Steampunk event in July.
The Steampunk Weekend in July usually coincides with the English school breaking up for the summer.
With free daytime entry to the Pavilion, there is live entertainment, retail outlets, workshops and more.
Love folk music? Then Whitby Folk Week is the event for you!
From 20th to 27th August inclusive, this event is packed with 100 artists for what is usually one of the busiest events of the year.
Check out our What's On page for listings
Whitby Regatta
This eponymous and probably most popular of Whitby's events takes place this year on 13th, 14th and 15thAugust.
The event will include yacht racing, rowing races and various forms of entertainment as published in the official programme, finishing with a prize presentation and spectacular firework display.
Whitby Regatta is over 180 years old and it certainly draws in the crowds!
Pannett Park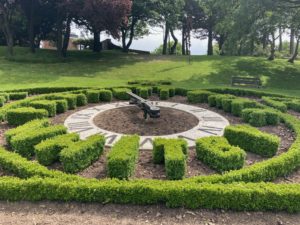 Open throughout the summer for outdoor fun and glorious flower displays, Pannett Park is perfect for some outdoor entertainment for the family.
Pannett Park is in the grounds of Whitby Museum.
Read our blog about the ten best places to visit in Whitby so you can explore  and enjoy our town!
Whitby Traction Engine Rally
This event takes place 5th, 6th and 7th August next to Whitby Abbey and includes a live stunt show, dancers, musicians, entertainer, fireworks, classic cars, funfair and much more!
Just a 15-minute walk from the town centre, the event also features some of the Scarborough Fair Collection, classic cars, vintage tractors, miniature steam engines and lots more.
North York Moors Centre at Danby
Now called Danby Lodge, this historic visitor centre is set in a beautiful spot on the banks for the River Esk, near Danby village.
Entry to the site is free.
Inside the centre, there is an annual exhibition, the wonderful Inspired by… Gallery, a kid's climbing cave and shop.
Outside, there is a Mud Kitchen, the Salmon Labyrinth, Crow Wood, sculptures, and some easy walks to do.
Whitby in General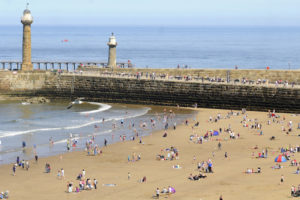 The Fish and Ships Festival takes place 23rd and 24th September.
This free to attend event celebrates the incredible maritime heritage of Whitby.
From boat building to Arctic exploration, from catching fish to Whitby's award-winning eateries, this event is one of our favourites.
The event includes a seafood kitchen on Endeavour Wharf, along with local bands, sea shanty singers, stalls, children's activities and walkabout acts.
Other venues take part in this special event including the Captain Cook Memorial  Museum, Pannett Art Gallery, Whitby Jet Museum, the RNLI and Whitby Library among others.
What to do next
Whether you've already booked in for your stay, or if you want to see if we have availability visit here.
We can't wait to welcome you.
We wait such a long time for summer … make the most of it here in Whitby!
All details correct at time of posting. Please check with all venues and organisers if you plan to attend any of these events.