October is a very special month for Whitby.
As the clocks go back and half term takes place, our seaside resort is preparing for October, the scariest time of year with events at Whitby Abbey, the North Yorkshire Moors Railway, Whitby Pavilion and throughout the town itself.
Why not book a short break with us and sample the spooky delights of our stunning town? 
Here's our best guide all the ghoulish goings-on here in Whitby this October!
You can also check out our 'What's On' page for a list of events here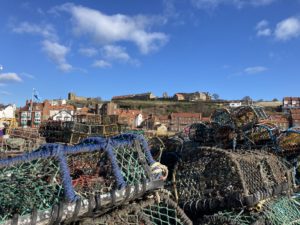 October in Whitby
With summer over and autumn well underway, October in Whitby is one of the town's busiest months for special events.
Of course, October includes Half Term, Halloween and the clocks also go back on hour on Sunday 30th October.
Yet as we all know, Whitby is inextricably linked with ghostly tales and haunted happenings!
As well as being featured in the timeless tales of vampires in Dracula, the town has its own collection of spooky stories.
Not for the Squeamish …
Ghosts that are said to haunt Whitby include Constance de Beverley, a nun who dared to break her vows of chastity and who was bricked up alive inside the Abbey walls.
If you listen carefully, you can hear her begging to be released.
And let's not forget the Barguest Hound, said to roam the streets and only those close to death can hear its growl. Spooky!
Even scarier is the Barguest Coach, which pulls up to the graves of sailors in St Mary's Churchyard led by a team of headless horses. The passengers are the skeletons of other dead sailors, gathering up the corpses of the recently deceased from the graveyard.
It's enough to make you scream!
Autumn Events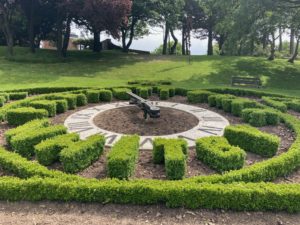 Without further ado, let's have a look at autumn events in Whitby! All event details correct at time of publication.
Light Up the Abbey
21st to 31st October 2022, from 6pm
Whitby's iconic Abbey, with its unmistakable jagged outline atop the cliff, will be lit up this October in spectacular fashion.
The Abbey, with a history that stretches back to the 7th Century, dominates the skyline of the East Cliff and as the darker nights crowd in, is lit up with spectacular colours.
The ruins provided inspiration for the likes of Bram Stoker, author of Dracula.
With a rainbow of ghostly lights bathing the Abbey, be sure to have your camera at the ready.
Halloween Half Term at Whitby Abbey
22nd to 30th October 10am to 4pm
Yet another school holiday means you need to entertain the kids while they're away from the classroom.
What better way than gathering your own little monsters for a spookily good day out at Whitby Abbey!
Halloween Half Term at Whitby Abbey includes a trail with creepy clues, story time and lots more.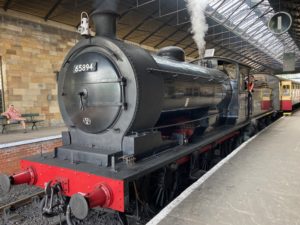 North Yorkshire Moors Railway Light Spectacular
22nd to 30th October 2022, 6pm or 7.45pm
Whoever came up with this genius idea is … well, a genius!
You'd be forgiven for thinking that boarding or viewing a steam train as twilight gathers is pretty boring … how wrong can you be?
This heritage railway, which now includes Whitby Railway Station, really pulls out all the stops as its carriages and some locomotives are decorated with thousands of twinkling lights.
You'll need to get to Pickering Station to board (tickets please!) for a spectacular journey along with stunning route to Levisham and back.
A mix of DJ sounds gets you 'in the mood' for a party which the whole family will love.
Each ticket holder will have their own interactive LED wristband, which is synchronised with the beats of the music.
The trip lasts an  hour, with on-board narration and music.
Get your tickets here … they sell out fast!
Tomorrow's Ghosts Festival
Whitby Pavilion 28th and 29th October 2022
Live music with Field of the Nephilim, Ghost Dance, Evil Blizzard presenting Blizzoween, Bootblacks, Loveless, Into a Circle, Balaam and the Angel, All My Thorns.
Ticket prices apply.
There are Gothic and Alternative Markets taking place, free entry.
Musicport Festival
Whitby Pavilion 22nd and 23rd October 2022
Taking place at the Lighthouse Stage in Whitby Pavilion, this year's event includes BCUC, Andy Kershaw, Bull and more.
Whitby Goth Weekend 28th, 29th and 30th October 2022
This iconic event includes the Alternative Market, visiting authors and more.
The venues include Whitby Leisure Centre and Whitby Brunswick Centre.
Whitby embraces the splendour of this occasion, when spectacular costumes and themed buildings transform areas of the town.
Other Events in October
Other October events and in no particular order, include Manic Monday on the 31st October, Peaky Blinders in Whitby on 8th and 9th October, Magic Mike's Not So Spooky Halloween Show on 25th October, Blizzoween on 28th October, Limehouse Lizzie on the 1st October; Laurence Jones on 14th October and lots more.
What To Do Next
If you've been inspired the general spookiness of this article and also by the town of Whitby, why not join us in this stunning seaside town?
Book your break here!