Happy 70th Birthday, North York Moors!
It would need a rather huge cake to take 70 candles!  We are wishing the North York Moors National Park a very happy 70th birthday!
The Park's official birthday takes place on 28th November 2022.
Whitby is very blessed by its location: stunning coastal vistas and surrounded by this awesome National Park. What more could you want?
Throughout 2022, to mark the park's 70th birthday, lots and lots of different events will take place, from guided walks to stargazing. Find out more here!
And of course, this special anniversary coincides with that of Her Majesty the Queen, who celebrates her Platinum Jubilee throughout the year, too.
Attractions in the North York Moors National Park
Spoilt for choice is the phrase! Key attractions include the North Yorkshire Moors Railway, Dalby Forest, Ryedale Folk Museum, and Flamingo Land.
However, as with all National Parks, enjoying the walks and the countryside is totally FREE.
Some areas are very, very remote and are without a mobile phone signal, so having your own car, up-to-date maps and all the right equipment is essential.
Parking charges will apply in certain locations.
How It All Began
In 1949, the Act of Parliament to establish National Park is passed by the Government.
Fast forward to 1952, when the Queen became monarch after the early death of her father, George VI, other events took place. Tea rationing ceased, Sooty first appeared on TV and Britain gained its sixth National Park, the North York Moors.
National Parks came about as a way of preserving our natural landscapes as carefully as possible.
The parks also gave everyone access to these incredible places. There are 15 National Parks in the UK.
The North York Moors National Park was named in 1952 as the new Elizabethan age dawned.
How big is the North York Moors National Park?
The Park includes 26 miles of coastline (just 0.2 miles short of the distance of a marathon) and covers 554 square miles, or 1,438 km.
If you wanted to walk all the Public Rights of Way in the North York Moors, then you better get started, as there are over 1,408 miles, or 2,268 km of them!
Which are the Best-Known Long-Distance Walks in the North York Moors National Park?
Whether you want a stroll or a mega-long walk, there is something for you!
We've listed our favourite walks here.
Lots of our guests are keen walkers, and walkers can tackle sections of the Coast-to-Coast walk, the Cleveland Way National Trail, and the Lyke Wake Walk
There is alsoEsk Valley Walk, varying from a mere 37 miles to 192 miles in distance!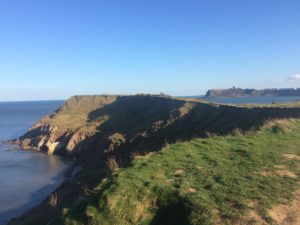 When is the best time to visit?
National Parks are suitable to visit at any time of year providing you're prepared!
However, one of the most wonderful sites is that of the purple heather in later summer and early autumn.
The North  York Moors has one the largest expanses of heather moorland in England and Wales and its famous purple hues are a sight to be seen.
What is the highest point in the North York Moors National Park?
Urra Moor reaches 454 metres and you can find it in the Hambleton District of the Park.
How much of the North York Moors is covered by forestry?
The North York Moors is blessed with ancient and veteran trees and approximately 23% of the of the National Park is covered by forest and trees.
Where is the Highest Gradient?
If you love punishing climbs either as a walker, cyclist or runner, then head for Chimney Bank in Rosedale, which rivals Cumbria's Hardknott Pass for the steepest road in England.
The gradient is an unforgiving 1:3 and is it seriously tough even for seasoned athletes.
What About Ancient Monuments?
England's history stretches back across the millennia and you can still see the remnants of our ancient ancestors with around 1,500 boundary stones across the North York Moors.
These include famous ones like Lilla Cross which dates from 626AD.
What is Happening During the Park's Platinum Year?
Events include the popular Discover National Park Fortnight (2nd to 18thApril), WalkFest (28th to 29th May), a Taste of the North York Moors (7th August) and there are also numerous exhibitions and free events. 
How do I get to the North York Moors National Park from the Riviera?
If you've brought your vehicle, you can be in the park in about 7 minutes!
If you're on foot, then join the Cleveland Way National Trail and you will walk tackle not only one of the most spectacular coastal paths in the country, you will also be walking along part of the North York Moors National Park's clifftop stretches.
The Last Word
The North York National Park is one of Yorkshire's gems and it attracts millions of visitors each year.
The hard work of its custodians, including many volunteers, helps keep it a safe and wonderful place to visit.
We'll leave the final words to that of the North York Moors National Park.
"Moorland. Coast. Forest. Dale.
"The North York Moors is a special place, forged by nature, shaped over generations – where peace and beauty rub shoulders with a rich history and a warm welcome."
We couldn't agree more!